Maybe you have been fed up with bland and non-visual Podcasts, really desiring to find something new to help improve your English skills? So there is nothing more compelling and enjoyable than practising your speaking and listening through watching dramatic UK TV shows and imitating the native speakers' accent, pronunciation and intonation. Perhaps American TV Show will be more popular with many people. However, if you are the one that prefers British accents, then these following TV shows will be the best options for you. Not only do them help you feel relax after tiring working moments but also enhance your English vocabulary as well as enable you to get used to the accent and cadence of each character in particular and British speakers in general. The more you watch, the better your speaking is like those native speakers!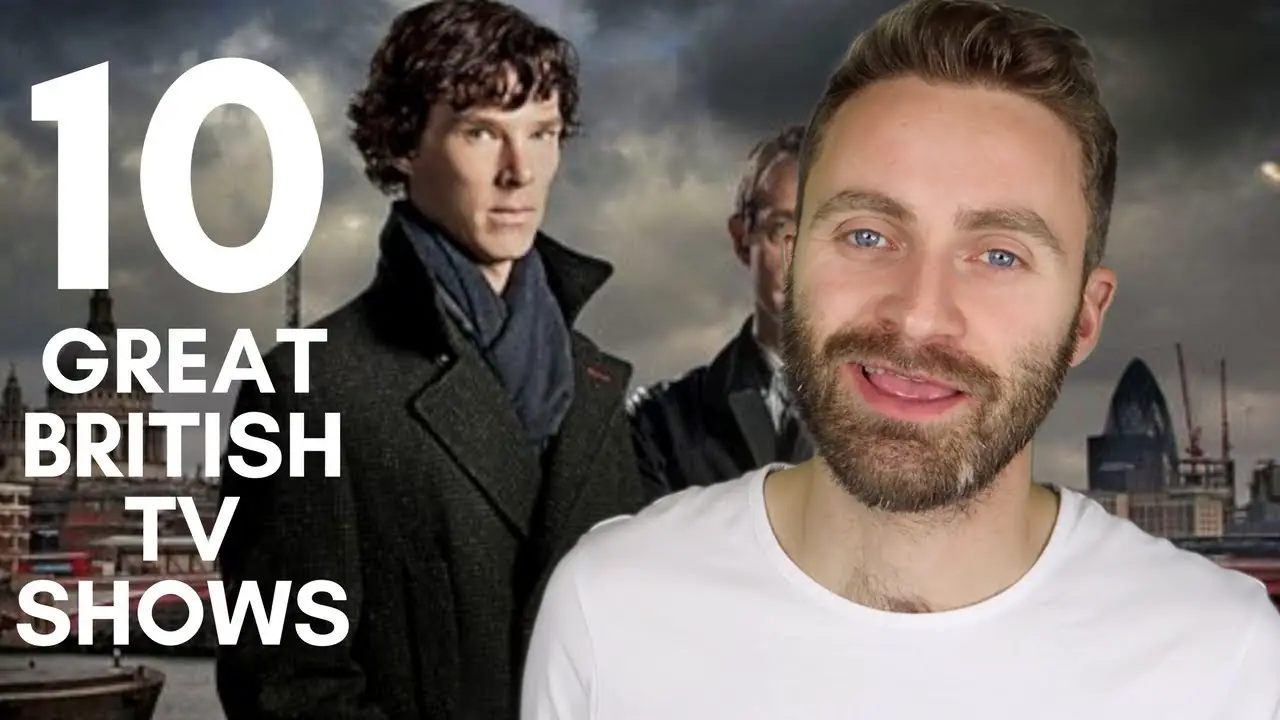 Pin
Here is the list of 10 great British TV shows synthesised by Learn English Fun Way. Choose yourself the favourite one and start watching!
01. The Great British Bake Off
This is a television baking competition in which a group of amateur bakers compete against each other in a series of rounds, attempting to impress a group of judges with their baking skills, with a contestant being eliminated in each round, with the winner being selected from the contestants who reach the finals. This UK TV programme aims at creating funny and happy moments, unlike many other shows that dramatise their content.
Currently, The Great British Bake Off has released ten seasons, attracting a broad audience.
Why should you choose Great British Bake Off?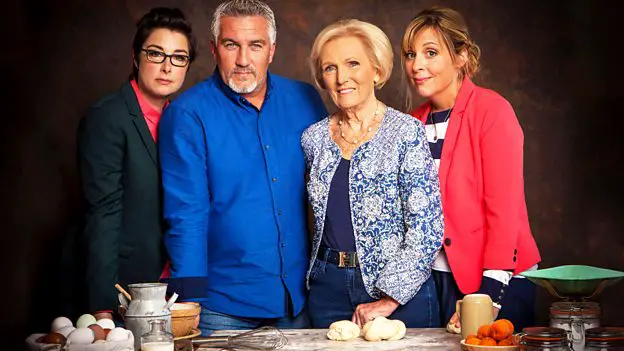 Pin
Firstly, as participants in this UK TV Show come from all corners of the UK; hence, the show gives you a diverse understanding of the accents of many UK regions. Thanks to this, in the future, you will be able to guess where the person you are communicating with comes from, and quickly get used to their way of speaking no matter where they come from.
Secondly, because the speaking style of this British TV Show is Modern English, people in the show talk to each other in a natural, familiar and uncomplicated way. At the same time, the judge doesn't use too many professional words in giving their opinions and ideas, so you will feel certainly more comfortable and easier to understand.
Finally, the show introduces to you a wealth of cooking vocabulary and culinary knowledge about British culture.
02. Black Mirror 
Black Mirror is a fantasy film series with a dark and satirical tone. Still, each episode is standalone with different content, not related to the rest, so you do not need to worry about "languish waiting" after watching each episode.
Rarely has there been a film successful in reflecting the unanticipated consequences of misuse of technology that attract viewers significantly like Black Mirror. Although the tone of the series is quite dark, the content is attractive and engaging from the very first minute.
Pin
Black Mirror is not recommended for children, be careful because you should only watch when you are old enough.
For learning English, Black Mirror is the ideal choice. It contains lots of great conversations and meaningful sayings, especially giving ideas on Technology, Social Networks or Future Life topics for English writing essays.
03. Jamie Oliver
Another cooking program is Jamie Oliver. Jamie Oliver is a famous chef from the UK, well-known all over the world.
Oliver's way of speaking is very informal, so it is easy to listen to. This is why you will be exposed to a multitude of slang and get acquainted with the accent of a chef from Eastern England when you see this UK Show.
Pin
One of his accent's unique characteristics is that he doesn't pronounce / t / in the middle of the word. For example, when pronouncing the word "Water", Oliver will swallow the / t / in and pronounce / ˈwɔːə /.
Jamie Oliver's TV Show will bring you a rich vocabulary of food: interesting cooking verbs, names of food, and unique adjectives when he describes food, etc.
And of course, you will also learn how to cook a few simple dishes from the famous and handsome chef – Jamie Oliver.
04. X-Factor
X-Factor is the UK's most popular singing talent show.
Each contestant has a short introduction, telling their own story in the simplest and most concise way: Where they come from, what they do, why they join the program, etc. So the most frequently used tenses are the simple past, past perfect tense, etc.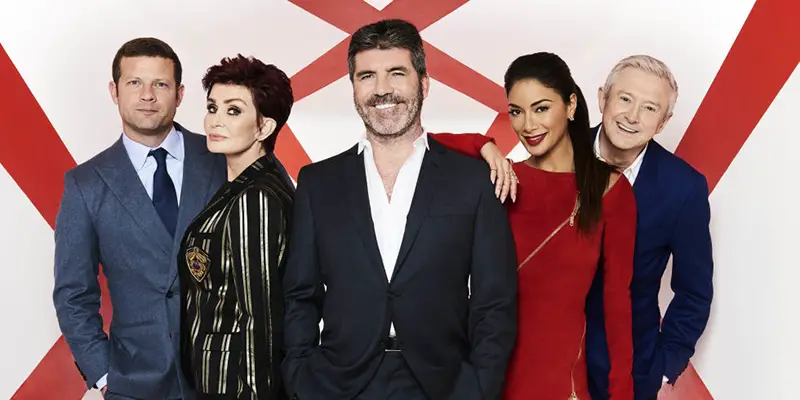 Pin
Watching this TV program is an effective way for you to learn how to tell a story, how to bring emotions from a story in English, how to make witty comments (many common adjectives), or how to answer wisely, etc.
In particular, you can watch each small clip of X-Factor on youtube to follow the show without having to watch the whole episode.
05. Sherlock 
You may have got used to Benedict Cumberbath in Doctor Strange. He also starred in this Sherlock series.
Sherlock is a British crime television series based on Sir Arthur Conan Doyle's Sherlock Holmes detective stories. Needless to say, the film's excellence has been well confirmed by viewers and critics around the world.
Pin
The dialogue and vocabulary are unique and sophisticated; the writer seems to want to "take advantage" of the words to play with the "detective brain" of the viewer. At times, only one word in a sentence would be a link for Sherlock to find out the truth of the matter.
The drama of this series will undoubtedly make you unable to take your eyes off for even a second.
06. Strictly Come Dancing
When it comes to British TV shows that help you improve your English, we must mention Strictly Come Dancing. If you are a fan of dance moves, then Strictly Come Dancing would be a perfect choice.
This UK TV Show becomes appealing thanks to thanks to its simplicity but fun. Instead of "hacking" a viewer's brain like Sherlock, Strictly Come Dancing makes your mind more relaxed and comfortable.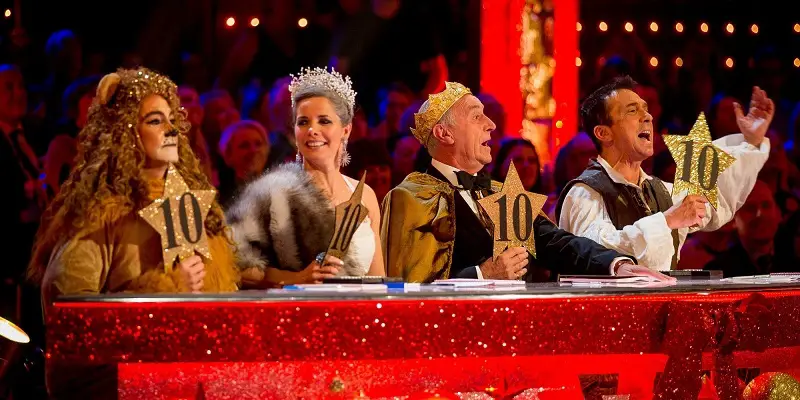 Pin
You will be exposed to pure, natural vocabulary to express comments on performances like X-Factor. The difference is that X-Factor competes in singing, and Strictly Come Dancing competes in dancing.
07. Peep Show
Peep Show tells about life and relationships of 02 guys living together, with 02 separate personalities. Unlike the other six British TV Shows mentioned above, Peep Show is the only comedy show.
It might be a bit difficult for you to watch a comedy show of another country because listening to the native speakers joking will make you feel like "you're in another new world" and have no idea what makes waves of laughter in that comedy.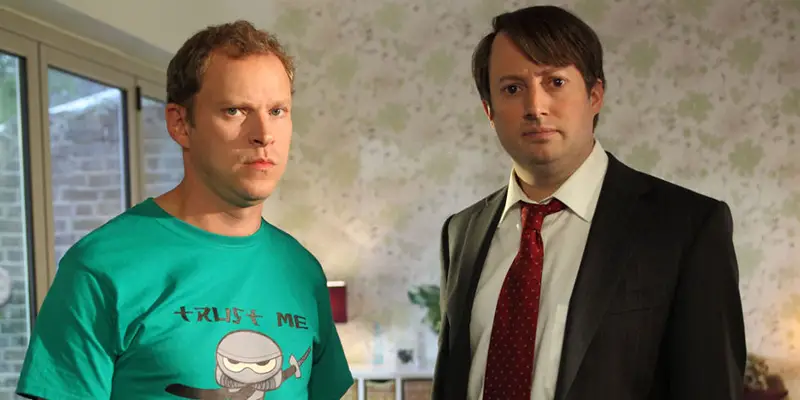 Pin
However, watching comedy shows will also be a strong point if you want to learn about English culture through their common jokes. And certainly, you will not remain "silent" throughout the show because there are still jokes that you can understand through modern and common English vocabulary. Another strong point is that their pronunciation is also clear and easy to hear.
A little note is that the program is not for young children. So keep an eye out if there are children around you!
08. Downton Abbey
The British TV Show Downton Abbey will be the complete opposite show compared with the Peep Show. Downton Abbey is famous worldwide for its setting from the 1990s, reflecting the opposing life of the aristocracy and the servants clearly to the point of obsession.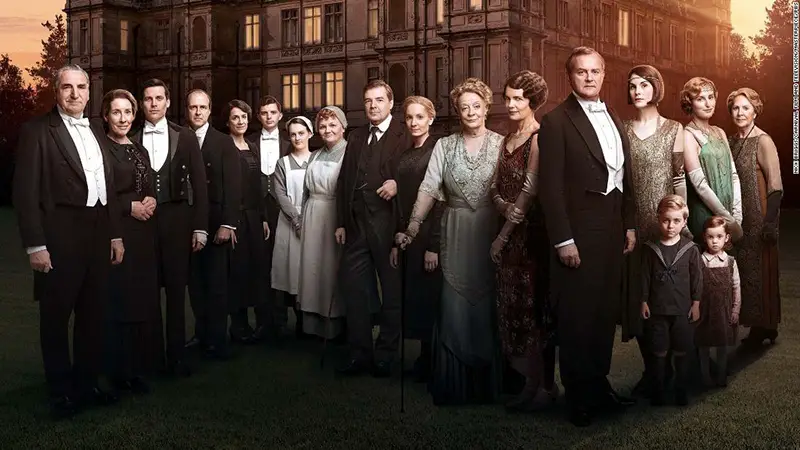 Pin
The noble family in the film lives upstairs with abundant life, while the servants live on the lower floor of the house and in poor conditions.
The vocabulary in the film includes classic words appropriate for the context of the program, bringing a different cultural view of the UK to you through conversations, and common vocabulary.
09. Planet Earth
The voice of Planet Earth host is very soft and comfortable to listen to onlookers. He will bring you the source of knowledge, different aspects of the natural world, from the Desert to the Sea, from the Sea to the Jungle, etc.
The vocabulary used by the host of the show is also a factor that impresses viewers when he uses the most beautiful adjectives to describe nature.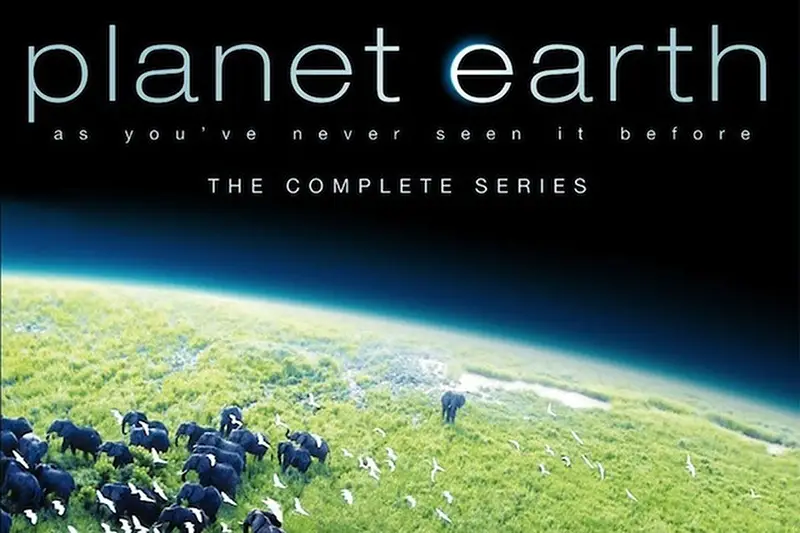 Pin
If one day you take an English writing competition and encounter a topic about nature and environment, then the experience of watching Planet Earth will help you become the winner.
10. Made in Chelsea 
Made in Chelsea is a BAFTA award-winning, structured-reality television series broadcast by E4 in the United Kingdom. It tells about the lives of affluent, shallow young people in West London. Thanks to this TV show, you will understand what the natives of London think, what they like, what the cult of the "rich kids" here is?
And of course, the vocabulary used in the show will be very modern and somewhat "mischievous", which you can not find in the usual sentences you use in your daily conversations.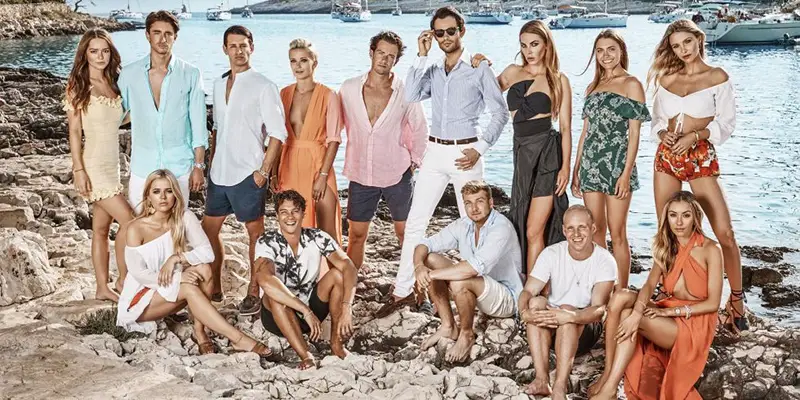 Pin
One thing still causing a stir is that the rating for this show is only at 4.7/10. But there is no shortage of audience still supporting and watching this series. So it's best to evaluate Made in Chelsea according to your own feelings!
Not finishing yet, Learn English Fun Way will also introduce to you an additional "must-watch" British TV show called "Man vs Wild". This show is so famous that Obama used to be a participant, going to a remote place and overcame the challenge with the main character.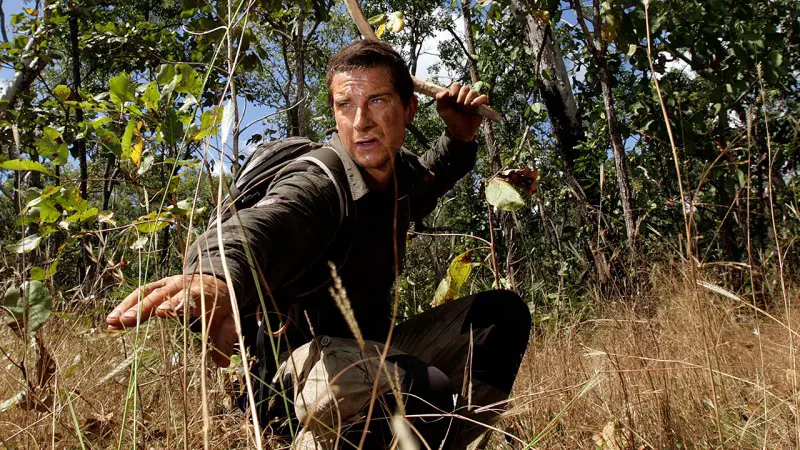 Pin
"Man vs Wild", also called "Bear Grylls" in the UK, is a survival television series hosted by the adventurer Bear Grylls on the Discovery Channel. Each episode of this series will be the world's harshest place, and the main character Bear Grylls will find a way to survive in that dangerous environment at all costs. He even has to eat raw animals' meat and drinks his urine.
The vocabulary used by Bear Grylls is very common, natural and used in everyday communication. Sometimes he uses some short sentences to bring the knowledge of survival skills to viewers.
Wish you will have moments of relaxation, study and entertainment with 10 UK TV Show above! Thank you for reading and see you in the next writing!