English, together with Chinese, Spanish, Hindi, etc., has long been known as one of the most widely spoken languages. Overall, there are 1121 million English speakers, and the language is so pervasive that it appears in international contracts, technical and scientific periodicals, advertisements, banners, etc. The magnitude of English has gradually become obvious, so the question as to how to improve one's English has been many English learners' concerns. People sometimes overly exert themselves with a view to enhancing their English quickly, but still, their efforts come to nothing, which is the consequence of their working without enthusiasm. So if you want to acquire entertaining yet effective know-how that is necessary for your ascent to progress, you definitely cannot fail to watch these TV shows.
1.The Amazing Race
It is a television reality game show in which teams consisting of two people racing around the world to compete with other teams in order to win the grand prize. Contestants travel to and within myriad countries by means of various means of transportation, including helicopter, bus, hot air balloon, train, etc. Whatever location they set foot on, clues are given to help them perform a task based on its cultures and geographical features. The three most excellent teams compete in the last leg, and the winner receives a prize worth $100,000. Watching this electrifying show, not only will your vocabulary and listening skills improve considerably but you will also get to know more about different cultural backgrounds. 
2. America's Next Top Model
If you are a devotee of beauty and fashion, catwalk shows, then this is the best TV show for you. It is an interactive contest in which participants compete against each other to win the grand title so that they can begin their career in the modeling industry. They are judged weekly on their overall appearance, the professionalism and charisma they exude, and the way they execute their tasks. Each week one contestant is eliminated so that there will be a winner at the end of the show. Sometimes the excluded people are your favorite, which leaves you with mixed emotions, and, of course, your conspicuous betterment in English without your awareness.
3. Who wants to be a millionaire?
Simply known as "Millionaire", it is an international television game show in which contestants are required to tackle a series of multiple-choice answers. The more questions they can answer correctly, the more money they have, and of course, the questions are put in ascending order as regards difficulty. There is no time limit to give an answer, so participants have time on their hands to think until they reach their decision. There are also four options that offer help, including 50/50, calling your acquaintances, asking other audiences, and asking the panel of the studio for their opinions. The maximum cash prize rewarded is one million of the local currency. In order to get the answers correct, contestants have to keep themselves abreast of the latest news and possess a wide range of knowledge of different fields, ranging from Math, Literature to Sport, Arts, and other countries' traditions and customs. Undoubtedly, being a regular viewer of the show definitely does you good because your understanding can augment in leaps and bounds while your listening skills are dramatically improved.
4.Master Chef 
The show is for enthusiasts of cuisine, cooking recipes, and the like. It welcomes participants of different ages and walks of life (MasterChef; MasterChef: The Professionals; Celebrity MasterChef and Junior MasterChef ). The chances are that you will encounter the strangest kinds of dishes ever despite being an international cook when you watch the program for the participants come from various cultural backgrounds. Also, you may come across the most familiar food such as omelet or hamburger, and the only difference is that these recipes are far from usual. Maybe you will learn how to cook the usual dishes in a different way. The show promises to bring to you not only displays of mouth-watering dishes and in-depth knowledge of cooking but also a cumulative amount of vocabulary about ingredients and an escalation in your listening skills.
5. Friends
Starred by , Matthew Perry, Courtney Cox, Matt Le Blanc, Jennifer Aniston and Lisa Kudrow, Friends is one of the world's most famous sitcoms. Despite no longer being produced, the show has always been popular and have a special position in the hearts of film enthusiasts in general. You can always find the re-runs, which follow a group of New York inhabitants in their thirties. Friends air for ten seasons, which is an impressive achievement, and each season is full of laughter and wit.
The show is also ideal for those who want to practice English because the language is very easy and derives from daily life situations. You can start with subtitles, and gradually get rid of them. You will find marked improvements in your English ability, particularly listening skills for sure.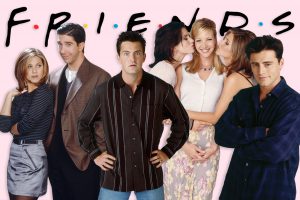 Above are highly-rated TV shows that promise to stand you in good stead when it comes to upgrading your proficiency in English. However, bear in mind that there are still a bunch of TV shows out there that are suitable for you and your hobbies, so be wise enough to make best use of them so that your English can be enriched while you still put your feet up!