"Are there any problems with your room, sir?"
"I wanna shit (sheets)"
"Go to the toilet"
"You know (no) understand, I wanna shit (sheets) on my bed"
"You better not shit on our bed, you son of the bitch"…
There are many funny situations around learning the English pronunciation of non-native people. Because native speakers' phonetics and ours are not the same, most English beginners ignore English pronunciation which is considered one of the easiest parts to learn by themselves. This article will reveal the best English pronunciation apps as well as effective study tips to avoid humorous situations in speaking English!
Free English learning apps, especially pronunciation ones, are increasingly popular because of the convenience and efficiency they bring. When studying with these apps, learners will not only listen to the correct pronunciation of native speakers but also be instructed on how and where to place their tongue to pronounce words properly. There are a lot of apps available to help beginners learn English pronunciation; however, you may have no ideas what are the most high-quality and trustworthy apps. Therefore, today Learn English Fun Way will share with you the best English pronunciation apps which can boost your English speaking skills significantly. Let's begin!
5 Awesome Apps To Improve Your English Pronunciation
1. CoolSpeech
CoolSpeech is an application that helps users practice and standardize their voice as well as improve their ability to listen to English with its ability to read aloud available text from a variety of sources. According to users' reviews, CoolSpeech has outstanding advantages compared to many other English pronunciation apps thanks to the reading voice that has the best pronunciation and intonation. The software can be downloaded on both computers and smartphones.
Some key features:
Read text files aloud:
You just need to copy any English text that may be available or written by yourself into the program window, the software will read the text for you with the voice and speed of your choice. The program is very simple with a window for writing text, under the menu bar is the Play, Pause, Fast forward, Rewind, and Stop buttons. After writing the text, press the Play button, CoolSpeech will automatically read the text very smoothly and correctly thanks to Microsoft's Text-to-Speech engines.
Select voice to read with 5 available options:
To select the appropriate voice, go to the menu, select View and select Speech Properties. In the Speech Properties window, go to Voice and select one of the five voices of the software: Mary, Mike, Sam, Robosoft, and Adult Male.
Adjust the reading speed:
In the Voice Speed section, adjust the appropriate reading speed, then click the Preview button to listen to that voice and then click Rescan to default the selected voice.
Besides pronunciation practice, you should find effective learning methods to help you memorize vocabulary and improve English communication effectively.
2. BoldVoice
BoldVoice is the top accent training app for English. Learn with videos from expert accent coaches, and record your voice to get instant pronunciation feedback.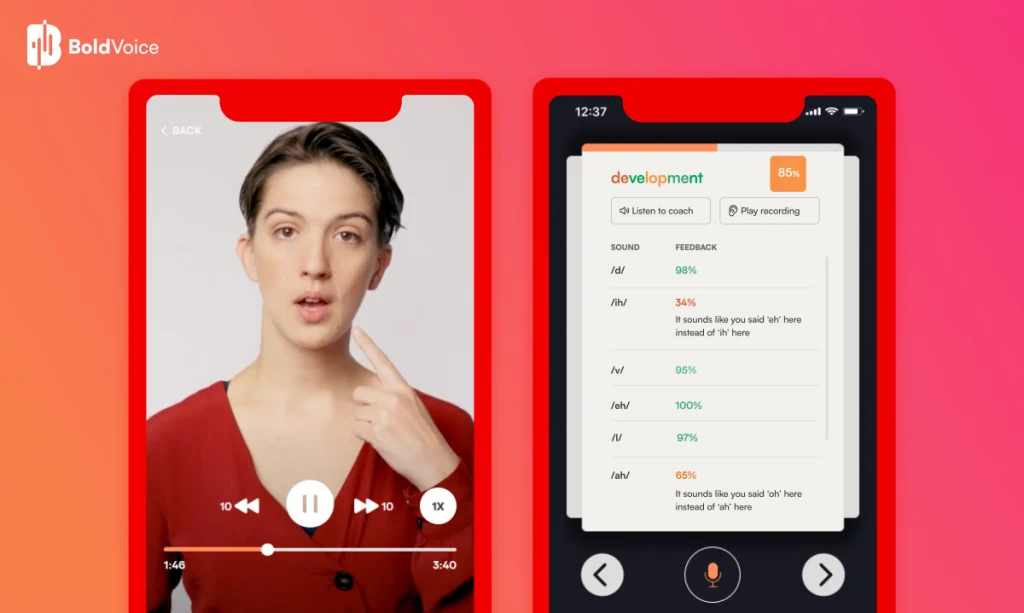 This app is the only accent training app that gives you video lessons from Hollywood accent coaches. They teach and demonstrate pronunciation skill before you practice with your own voice. This learning method the best way to master your English pronunciation.
With this app, you can:
* Train your American accent with video lessons from American accent coaches
* Master the English pronunciation of sounds, words, and sentences
* Speak English confidently by practicing with our advanced speech AI
* Get tips to become a better public speaker as an ESL professional
* See noticeable improvement in your pronunciation with only 10 minutes of practice a day
Who is it for?
this app helps advanced English speakers to speak more confidently and clearly. If you've ever wondered how to learn the American accent or wanted to improve your English pronunciation overall, you're in the right place. Whether your goal is accent reduction or confident public speaking as a non-native English speaker, this app can help.
Users from 100+ native languages use this app to improve their professional performance, better collaborate with coworkers, prepare for job interviews, prepare for job presentations, and study for standardized English tests (like TOEFL, IELTS, and TOEIC).
3. Elsa Speak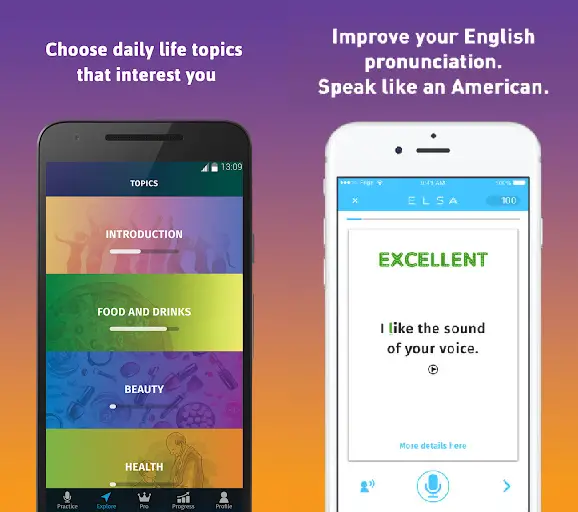 This is one of the greatest English pronunciation applications for English learners to practice speaking skills.  ELSA acts as an assistant, gradually helping you communicate like a native speaker. A survey showed that 800,000 ELSA users improved by over 40% of their pronunciation in just 4 weeks.
Some key features:
Personalize a learning pathway based on your qualifications and personal interests.
Provide lectures on vocabulary and pronunciation by common topics in everyday life. Listen to a sample sentence and record it, get feedback on pronunciation errors and how to place your lips, tongue and mouth correctly. Self-study of English pronunciation is not difficult at all if you start right now.
Test your own speaking level, evaluate the whole learning process and require you to re-study the content that you have not been proficient at.
Powered by our proprietary and state-of-the-art voice recognition technology, ELSA is the first and the world's smartest Artificial Intelligence pronunciation coach who will help you have perfect English pronunciation.
4. Learn English Sounds Right
This is one of the leading prestigious English software designed by the British Council, including the pronunciation of single vowels, double vowels, and consonants in the IPA (International Phonetic Alphabet) accompanied with illustrative examples. You just need to touch any sound to hear the most proper pronunciation and click the arrow above to see an example.
For those who are just beginning to learn English and are wondering which is the suitable app to learn the best IPA sounds, this must be a perfect choice. The application is designed to be lightweight and convenient to look up words anytime, anywhere. The software is supported on both IOS and Android platforms.
5. Speak English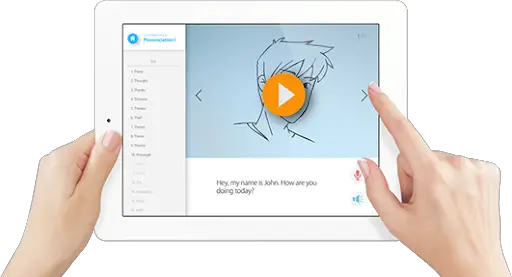 This is an awesome software for you to practice speaking and pronunciation skills after having learned the basic sounds. The application provides 2 study pathways, namely Beginner Sessions (for beginners) and Advanced Sessions (advanced). With Speak English, learners will study by listening, repeating and comparing methods.
Listening: Listen to a phrase or a speech selected by the app in the learning pathway.
Repeat: You record and repeat what you just have listened.
Comparison: Compare your speech with the sample speech and correct your pronunciation mistakes.
With each study route, the application also allows you to choose your favorite topics: date & time, travel, business English, etc. With daily practice, your pronunciation ability will be standardized and become more natural and fluent.
The application is compact and lightweight, supported on IOS and Android phone platforms. You can learn wherever and whenever you have free time.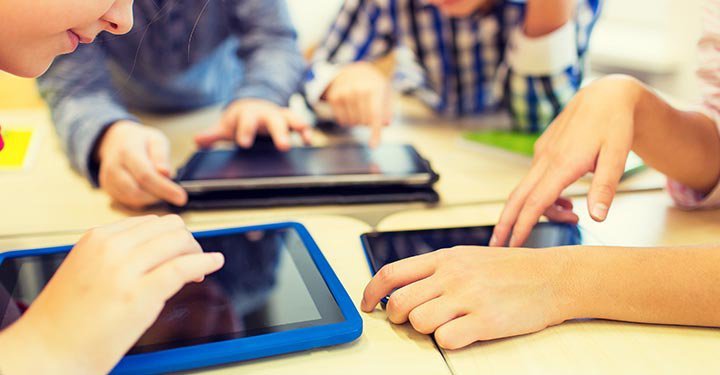 Above is the best English pronunciation training software that LearnEnglishFunWay has. Pronunciation is the cornerstone of learning English skills in general and listening and speaking skills in particular. This is also the first part you learn when interacting with English; therefore,  it is very important to pronounce words correctly in the first place. Hope the above-mentioned applications will help you have a good start with this language. Thank you for reading and see you in the next writing!