BBW: Definition, Origin and Real-life examples
Ever felt exhausted, stressful or confused when engaging in conversations with the younger generation? They have turned English upside down with the wide use of slangs and acronyms! In order to communicate effectively, you are forced to turn to an interpreter or to translate Internet slang by yourself. Hopefully, this article can help you by providing the meaning of the BBW slang term and sample conversations.
Pin
BBW: What does it stand for?
BBW stands for "Big Beautiful Woman". The term "BBW" is a fancy way of referring to oversized and curvaceous women. BBW can be used as an alternative to "big", "chubby" or "plus-sized" women.
This acronym is mostly found on online dating sites and in the sexual-content industry. In the world of restricted content, BBWs are often revered. Many hip-hop artists and rappers say BBWs are preferred to skinny women.
Example: "I like looking for BBW online on dating sites." (This person implies that he favors big, beautiful women.)
Origin of BBW
The use of the term BBW came to existence in the late 1970s with the publication of BBW magazine, invented by Carole Shaw. From there, thicker women gradually became known as BBW.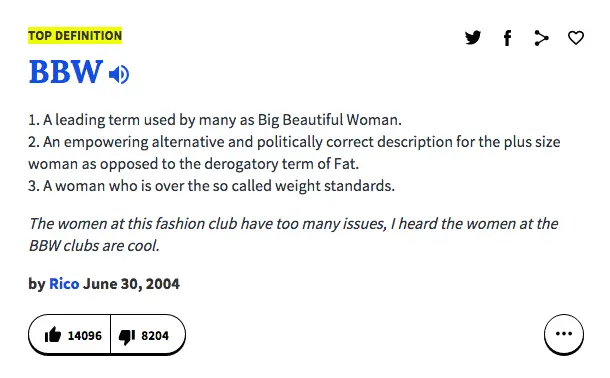 Pin
Different usage
There are many variations of the acronym BBW. Some say it means a beautiful black woman. But the most popular definition is a big, beautiful woman.
Many women find the term BBW uncomfortable because the term BBW is often considered the term for overweight women. Other women proudly call themselves "BBW" and learn to embrace their curves and sensuality.
A list of different meanings for the term BBW:
Born to Be Wild

Black Box Warning

Bath & Body Works

Baseball Writers Association of America

Business Building Workshop
A similar acronym for BBW is BHM when referring to a big and handsome guy. However, this acronym has many meanings and can be misunderstood by someone.
Example: "Look at him, he's so hot. I can't help falling for BHM!"
Real-life examples in conversations
Two boys on Facebook
Boy 1: Hey, what is your type? Is it plus-sized, curvy women?
Boy 2: No. I like small, skinny girls.
Boy 1: Oh, I don't think so. I find BBW really attractive!
Boy 2: Well, so that's your own taste.
(In this example, two boys are talking about their preference as regards women's body types. Boy 1 likes BBW, meaning big beautiful women, while Boy 2 prefers thin women instead. They agree to disagree in the end.)
Girls' online conversation 
Girl A: Do you think boys prefer BBW?
Girl B: I don't really know. I think it depends.
Girl A: What about your brother? Do you think he likes BBW?
Girl B: Yeah, I think so. He says he doesn't like skinny girls. Wait, are you having a crush on him?
Girl A: You caught me!
(In this example, Girl A is secretly having feelings for Girl B's brother. So, she asks Girl B about his favorite type of girl, specifically, whether he likes BBW or not.)
Similar expressions to use instead of BBW
You can use the following terms to refer to big, beautiful women, but be careful that the effect may vary.
Plus-size

Big sexy

Curvy

Thick-figured