What Does PFP Stand For? How Do We Use This Acronym?
Have you ever wondered what the acronym PFP means? This article will give you all the knowledge you need to know about the PFP acronym, including its definition, usage, conversation examples, and more!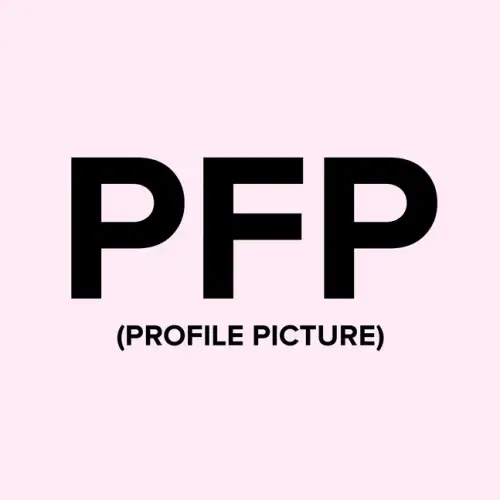 The Meaning of PFP
What Does PFP Stand For?
The definition of "pfp" is "Picture For Proof". You may also find "pfp" stands for "profile picture". This is exactly what it looks like, a person's profile photo. This term is most often used in social media conversations.
Usually, we choose to take a photo of ourselves as a profile picture. However, for privacy reasons or just for fun, people sometimes decide to make their profile picture a picture of a character, animal or something, rather than a picture of themselves. Usually, a profile picture can be a selfie, but it can also be something else, like a PFP monkey.
The acronym PFP is also used with the meaning of "Picture For Proof" to counter the request of the recipient. It was a request to photograph the evidence. PFP is often used among friends as a good challenge to update status on social media. It is also used between lovers, when it usually implies that the sender doesn't trust their partner and wants them to prove they are where they say they are.
How Does PFP Originate?
The world of social media has given rise to a lot of slang terms. Now, the use of "pfp" as a way of saying profile photo is one of the clearest examples of this evolution over the years. The term "pfp" was first used when Instagram was born in July 2010. Social media users often use the acronym PFP to refer to their profile picture. PFP is most often used on TikTok, although you may come across this acronym on Instagram, Facebook, and other social media platforms.
Other Meanings
There are many other things a PFP can represent besides "profile pictures" or "picture for proof". While these definitions are valid, they are much less common. This can mean that their use can be confusing for others. If you decide to use any of these sub-definitions, be sure to provide appropriate context so that readers are not confused when using acronyms. Whenever you use an acronym that has more than one definition, make sure your meaning is clear.
Pedals for Progress
Partnership For Peace
Partnership for Prevention
Program Financial Plan (various organizations)
Places for People (various locations)
Physicians for Peace Foundation (Norfolk, VA)
Prearranged Funeral Plans (Iowa)
Paris France Paramoteur (French paramotor company)
People First Party (Taiwan political party)
Program Forecast Period
Pacific Flyway Population
Planned Furniture Promotions
Passive Fire Protection
Phoenix Fight Promotions (mixed martial arts promoter)
Plutonium Finishing Plant
Porno for Pyros (band)
Personal Fitness Professional (magazine)
Principal Fellows Program (North Carolina)
Programmable Functional Panel (US NASA)
Private for-Profit (healthcare)
Proximity Fuze Programmer
Peak Firing Pressure (combustion engine)
Pooled Fund Program (US DOT)
Partial Factor Productivity
Pistols for Pandas (fictitious group)
Parallel Fan Powered (Vav Box)
Peace and Freedom Party
Protection from Poison (gaming)
Polytechnic Foundation Programme (Singapore)
Prepared for Print (fabrics)
Patellofemoral Pain
Primate Freedom Project (various locations)
Pink Floyd Project (band reproduction)
Pitcher's Fielding Practice (baseball)
Physical Fitness Program (various organizations)
Personal Financial Planner
Post Fermentation Process
Pay for Performance

Examples in Real-life Conversations
There are various situations in which the use of the term PFP is appropriate. People often use this abbreviation when texting or communicating via social networks. When talking in person, people will likely choose to use the full form of the term profile picture.
Example 1
Friend 1: OMG, thank you so much for tagging me in your PFP, but I don't like it. I look like a ghost. Pls change it!
Friend 2: Calm down. You look fine.
Friend 1: Please change it. I look so ugly!
Friend 2: But I like it. I won't change it.
Friend 1: Well, you should have asked me before you updated that PFP. How would you feel if I made your drunk pic as my PFP?
Friend 2: Don't you dare!
Friend 1: Oh, I do if you don't take yours down.
In this example, two friends are talking about their profile picture. Here the two use the term PFP to refer to their profile picture. Friend 1 is shocked with how she appeared in Friend 2's profile picture and that Friend 2 didn't get her approval prior to posting.
Example 2
Friend A: Did you know about Anna?
Friend B: No, what happened?
Friend A: She cut all her hair off!
Friend B: WHAT! No way, it was so long and beautiful! And what did you mean by ALL?
Friend A: She shaved her head. It was all gone.
Friend B: OMG, PFP?
Here are friends talking about another friend with really beautiful long hair. After a friend told her she cut everything, the person who couldn't see wanted a photo to prove the story was true.
Alternatives for PFP
The closest synonym for the PFP acronym like "profile picture" would be "avatar". You can also use the full form of "profile picture".
As for the meaning "picture for proof", you can either write "PFP" or "P4P".