What Is The Meaning of "Calm Your T.i.ts" And How It Is Used in daily conversations?
What does "Calm Your T.i.ts" mean? It is actually one of the most popular idioms. Idioms are a group of figurative words that, when combined, create images in the mind of the listener, not meant to be interpreted literally. Idioms in general have evolved over the years, but as they have evolved, the literal meanings are essentially understood. Here you can find the meaning of the phrase, the source of the phrase, the correct usage of the phrase in a conversation/sentence, and other ways to say the term literally.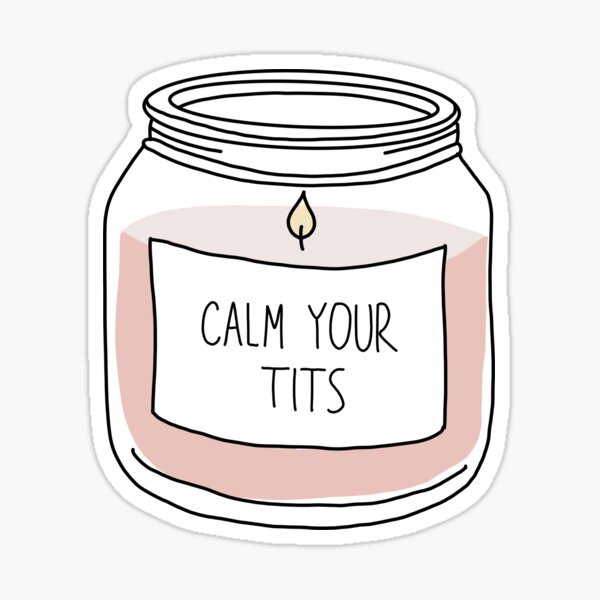 Pin
Meaning of Calm Your T.i.ts
What is the definition of "Calm Your T.i.ts"? 
The idiom "calm your t.i.ts" simply means stay calm or settle down. It is often seen as not only impolite and rude but also entertaining and ironic. This is usually uttered when an individual reacts to a particular situation in an inappropriately provoked manner.
Example:
"Calm your t.i.t.s, you look fine! (= Calm down, you don't look bad as you think!)
           "I didn't eat your cookies, calm your t.i.ts!" (= Don't make such a fuss, I did not eat your cookies!)
Calm Your T.i.ts: Where does it come from?
It is a much more recent idiom. The term was first heard in 2007 when Urban Dictionary users uploaded statements and definitions to the dictionary database. Originally, the phrase "chill your t.i.ts" has been changed over the years to become a generally accepted alternative.
On March 20, 2007, user Gage Magz published the phrase "Chill Your T.i.ts" in the Urban Dictionary. On March 23, 2008, the phrase "Calm Your T.i.ts" by user Sam Bell was added to Urban Dictionary. On April 22, 2015, Buzzfeed released a series of illustrations by Loryn Brantz on how to react when someone says "calm your t.i.ts". On January 5, 2016, a series of Some E-cards containing phrase variations were posted on 9GAG, earning 28,000 points.
Real-life examples in conversations
A conversation between two men in a bar
Man A: "Oh, my God. Did you see that guy flirting with my girlfriend? He gave her a drink and smiled at her. He's totally trying to get her attention. I'm going to fight him."
Man B: "Calm your t.i.t.s, A. He's just the bartender."
(In this example, two male friends were in the bar. Man A's girlfriend was offered a drink by another guy and he got furious at that. However, it was just his overreaction because that man was just the bartender, he was just doing his job. Man B was trying to calm him down before he started a fight for no reason.)
A conversation between two partners
Wife: OMG, my hair looks terrible today! I can't go out like this.
Husband: No, it doesn't Anna. It looks fine.
Wife: Shut up Steve. It looks like a mess. You should go to the party alone.
Husband: Alright Anna. Just calm your t.i.ts. Let's fix it together. We got plenty of time.
(In this example, the wife was getting out of control because she thought her hair did not look good as usual right before they were going to a party. The husband comforted her and calmed her down, saying they would fix the hair together.)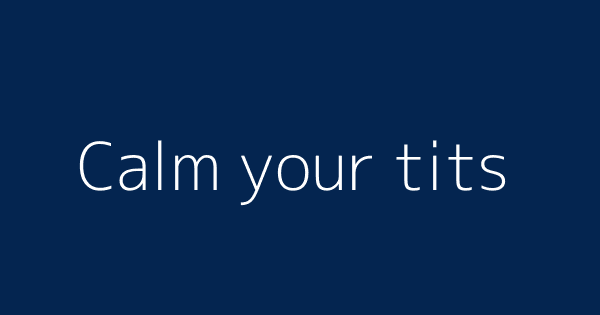 Pin
A conversation between another couple
Girlfriend: Are you cheating on me?
Boyfriend: Absolutely not. How can you think so?
Girlfriend: Then why did you like Mary's photo on Instagram? You know I don't like her.
Boyfriend: Calm your t.i.t.s. She is just a friend.
Girlfriend: A friend? She was never my friend, John.
Boyfriend: OK, OK. I swear I won't do that again.
(In this example, a couple seemed to have a heated conversation about another girl. The boyfriend liked her photo on Instagram, which angered the girlfriend. He calmed her down by telling her that she was no more than a friend, but it did not convince the girlfriend. In the end, he had to promise not to do that again.)
More exemplary sentences
   

Calm your t.i.ts. I'm sorry, OK?

   

Calm your t.i.ts. You're worried about nothing.

   

Calm your t.i.ts, I didn't steal your chocolate!

   

Oh, calm your t.i.ts, Mary. We'll be home before midnight.

   

Calm your t.i.ts, everyone. We can do this!

   

If you don't calm your t.i.ts, I'm gonna ask you to come back at a later time.
Other ways to say the slang
There is one variation of the idiom "Calm Your T.i.ts" which is "Calm Yo T.i.ts". This variation usually appears in text messages and memes.
Other phrases with similar meaning as "Calm your t.i.ts"
There are several alternative expressions that can be used in place of the acronym "Calm Your T.i.ts" to convey the same meaning but in a more polite and appropriate way. Here are some phrases you can use alternately:
   

Calm down

   

Calm

   

Simmer down

   

Quiet

   

Chill out

   

Cool off

   

Settle down

   

Tranquilize

   

Lull

   

Relax

   

Go easy!

   

Take it easy!

   

Give it a rest!

   

Take a deep breath

   

Slow down

   

Control yourself!

   

Loosen up!

   

Just drop it.

   

Just let it go.

   

Just take a breath.

   

Steady on!

   

Take a chill pill!

   

Hold your horses!