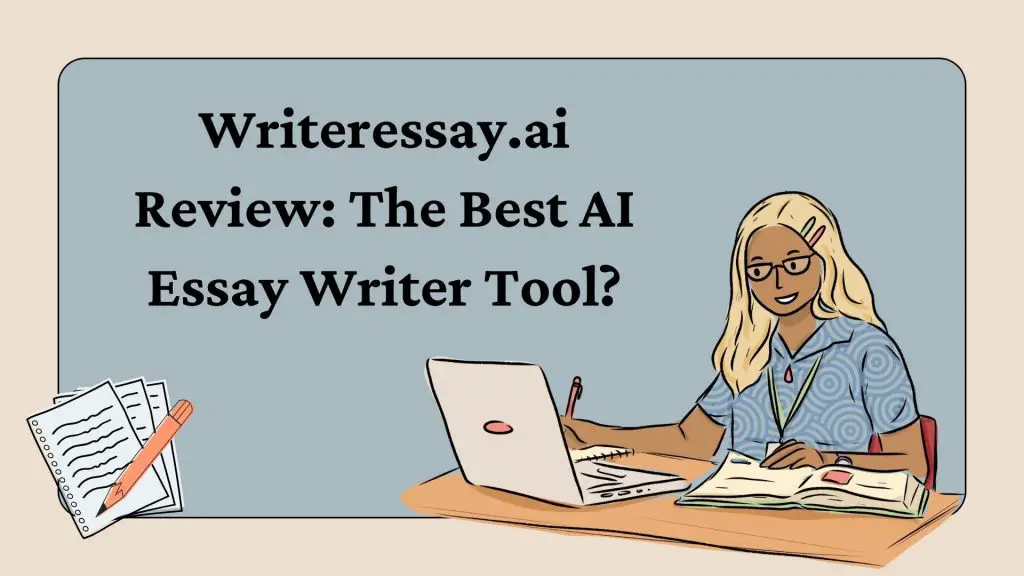 As a content writer, exploring innovative tools that can assist me in writing is my hobby. A few days ago, I discovered an amazing essay-maker tool, i.e., "writeressay.ai."
To my surprise, this intelligent AI assistant has become a valuable addition to my toolkit. The reasons for adopting it are various; the most important is its limitless capabilities of generating different and unique ideas according to the context of the topic.
It helps me when I run out of ideas and get confused in selecting the most appropriate words. Most importantly, the generated content does not contain grammar or punctuation errors, thus eliminating the need for proofreading too.
I have prepared a brief overview of this amazing essay writer to let you know how you can benefit from the tool and its features.
A Brief Overview of Writeressay.ai
Writeressay.ai is an AI-powered content generator that utilizes advanced NLP (Natural Language Processing) algorithms to understand the provided prompt of the essay title and write a unique and professional-level essay. 
The generated essay will have zero similarity index, grammar, spelling, or punctuation mistakes, as well as the repetition of sentences or ideas.
This means that the tool is capable of generating unique, original, creative, and polished content, ensuring a high-quality output that meets the standards of academic or professional writing.
It saves users' time, money, and resources, eliminates the chances of human errors, and overcomes writer's block.
How to Use Writeressay.ai?
It is one of the simplest AI tools to use. The user will enter the title or topic for the essay to be generated and click on the 'Generate Essay' button. The result will be a well-written essay that you don't even need to proofread!

The essay writer offers minor editing features, such as changing font size, providing headings, and using bullets, etc.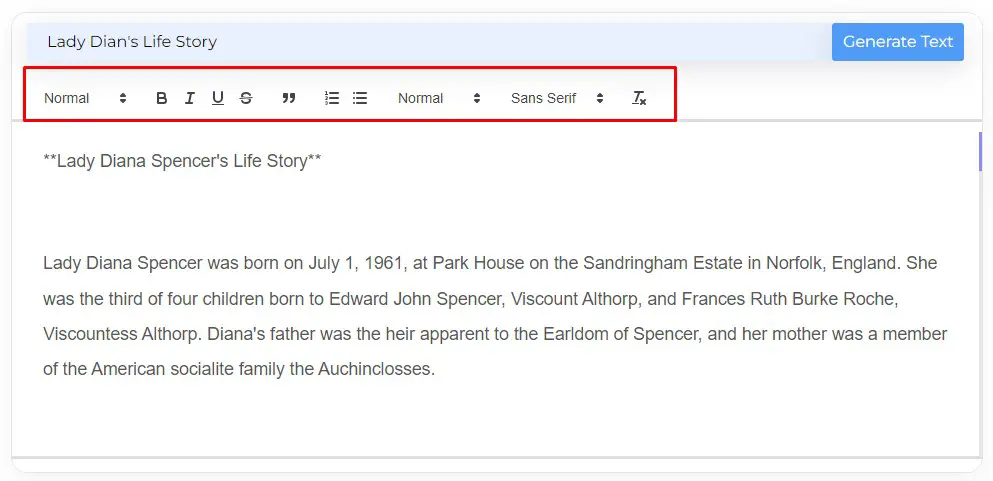 Quality Features of Writeressay.ai | How it Works to Improve Your Essay Writing Skills?
Employing an AI essay writer will be like having a personal writing coach who is ready 24/7 to guide and write for me, whether it is for a business marketing campaign or an academic essay. 
The tool is efficient, reliable, and accessible to the user's aid around the clock. Besides, it features the following specialties or qualities that are a cherry on top for professionals, just like me.
1. Professional-Grade Essay
Before I came across this AI essay writer, research, writing, and editing took hours of mine before finalizing the content.
However, with the help of the essay maker tool, the task that took hours has now become a matter of seconds. 
The essay maker is designed to predict the type of the title so that the research, choice of words, and ideas will perfectly match the context. 
As a result, the user will have a well-organized and logically coherent essay with a high level of linguistic precision.
2. No Grammar or Spelling Mistakes 
With the blessings of technology, AI tools have become more efficient than humans. One of its examples is the essay writer.
In academic and web content writing, mistakes like wrong article usage, misplaced verbs, misspelled words, etc., are not acceptable.
The AI tool's written content would not have any grammar, punctuation, or spelling errors. It works as a 2-in-1 tool by performing the dual task of writing and proofreading the essay for the user. 
3. Zero Plagiarism 
The content generated by the essay generator will have a zero similarity index. It will be unique, and original, and will not be identified as plagiarized content by search engines.
It has a built-in plagiarism detector to ensure that the generated content is new, eliminating the potential for plagiarism, and arranging the sentences and words to maintain authenticity and creativity.
4. Efficient and Accurate 
Efficiency and accuracy are at the core of the Essay Maker's functionality. It provides detailed information on the provided topic, organizes the different aspects of the essay, and the choice of words relates perfectly to the essay topic.
As a result of the above efforts by the tool, you will receive an essay that sounds as if it were written by a professional.
5. Time, Money, and Energy Saving Tool 
This AI tool is a life-changing platform for writers, educators, and researchers. Its biggest advantage is that it eliminates writer's block and can save you a lot of time and energy by generating unique ideas for writing essays at no cost.
Moreover, users can regenerate content on the same topic multiple times, and the generated content will be unique and different each time. It provides users with multiple ideas for writing on the same topic or title.
Benefits and Applications of Essay Writer 
The benefits associated with an AI essay writer are undeniable. It is helpful in saving users' time, and resources, and providing them with well-written content within a single click.
The tool is beneficial for content writers, students, educators, journalists, etc. The following are some of the prominent benefits and applications of the incredible essay generator.
By eliminating the need for brainstorming ideas and overcoming writer's block, the essay maker is a free-of-cost professional guide for users.
Professional-grade Output 
The essay suggestions, templates, and formatting will make it professionally written content. It can be a useful tool for beginners learning professional writing.
Human-errors and Plagiarism Free Zone
The essay generator ensures that the output content does not contain any spelling, grammar, or punctuation mistakes. Moreover, the generated content will have a 0% similarity index, ensuring no plagiarism.
You just have to provide the topic for which you want to write an essay, and the rest will be done by the tool itself. Can you find anything easier?
Academic, Descriptive, & Narrative Essay Writing 
The essay generator is smart enough to distinguish between the different types of topics and generate the relevant kind of content.
It can efficiently write the:
Academic essay:
It is based on structured analysis or argument, with a formal writing tone.
Descriptive essay:
It sounds appealing to the senses and captures a vivid picture of the whole scenario.
Narrative essay:
It contains a story with a character, a clear timeline, and evidence.
Summary 
Writeressay.ai is not just a tool; it's an essay ninja for me as it has made the essay writing task a breeze. Its user-friendly interface, affordability, and round-the-clock accessibility are the cherry on top.
The tool is capable of generating professional-level essays that have no plagiarism, grammar, or spelling mistakes. 
It can efficiently write academic, descriptive, and narrative essays for content writers, marketers, students, researchers, and other professionals.