TIFU Meaning – What Does TIFU Mean and Stand for?
TIFU means "Today I F*cked Up."
The acronym TIFU stands for "Today I F*cked up" and is used to indicate that the sender admits they have done something wrong (or made a mess).
This abbreviation can be used on SMS texting as well as social media sites such as Reddit, Snapchat, WhatsApp, Facebook, Twitter, Instagram, and TikTok. There is even an entire subreddit devoted to people sharing their TIFU stories. Sometimes, you might just caption a meme or photo with "TIFU." This will let others see their mistakes, such as spilling paint on the floor or letting a toddler use permanent markers.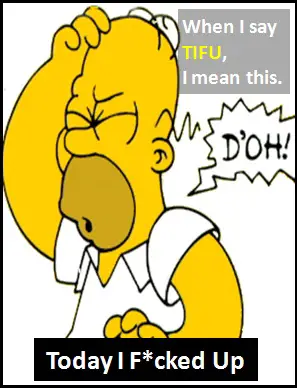 Is TIFU casual?
TIFU should not be used in formal settings. This slang term is inappropriate for business negotiations, emails, letters or any other professional situations. Here is an example of a situation where TIFU might be inappropriate. Then, follow up with a revised version.
Examples of TIFU in Sentences
These are some examples of TIFU used in sentences:
TIFU.

 

I placed the recycling in the container along with my phone and keys.

 

It took three hours for the men to remove them.
TIFU.

 

I took my boss' number and yours, and now he thinks that I want to go to bed with him.
Using TIFU on a Cell Phone, SMS Texts, Messenger, Whatsapp, and Reddit
TIFU Original: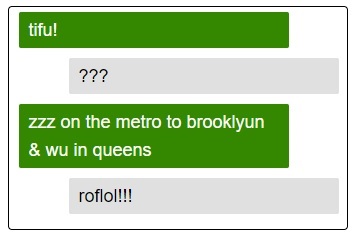 TIFU Translate: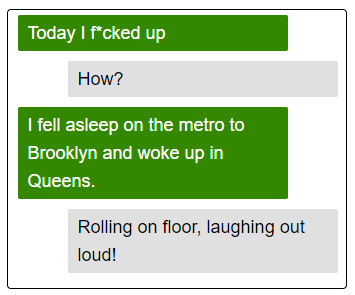 What were we saying before texting and social media?
We would have said something similar to "Today, I f*cked-up" or something like "Today I screwed up", instead of using TIFU.
Synonyms for TIFU
I did it wrong

I made a terrible mistake

I fumbled it

I made a mess of it

It went wrong.

I blew it

I fouled up

I wentof

I got sloppy

I made it up!