FAC Meaning: What are the Definition and Examples of the Slang Term FAC?
The term "FAC" is an acronym that can have several meanings. Its exact meaning varies depending on who uses it and in what situation. In this lesson, you will learn how to use this acronym with example conversations.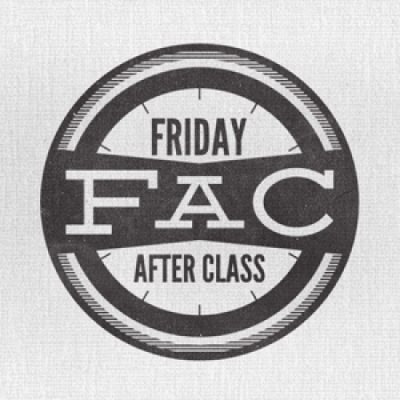 The Meaning of FAC
What Does FAC Stand For?
In Internet slang commonly used by young people, "FAC" means "Friday after school". When using "FAC", all letters are pronounced as "F-A-C". It is not said as a single word ("fack"). This is the time when students have completed all the lessons of the week and will go out to socialize with their friends. The activities students can participate in depend on what they are doing for fun.
What Is the Origin of FAC?
The exact origin of the term may not be clear, but research shows that the term "Friday after class" has existed since at least 1999 (and is probably much longer). Iowa State University student bars have created drink specials for Friday afternoons. This has led many students to go to bars to relax and start the weekend. Many people start the party here in the afternoon and then find other things to do in the evening.
Are There Other Meanings for FAC?
Since "FAC" is an acronym, there are many other meanings. Similar to "Friday after school", it can also mean "Friday Afternoon Club". Other meanings of "FAC" include:
Facility
First Amended Complaint (legal)
Find a Cure
Formal Aspects of Computing (journal)
Final Acceptance Certificate
Florida Administrative Code
Fast Attack Craft
Federal Advisory Committee
Fine Arts Center
Financial Advisory Committee
Field Archery Club (UK)
Finance and Administration Committee (NEAFC)
Family Assistance Center
First Alliance Church (Florida)
Florida Association of Counties
Food and Agricultural Code (California)
Federal Audit Clearinghouse
Forward Air Control(ler)
Food and Agriculture Committee
Foreign Affairs Committee (UK)
Food Aid Convention
File Access Code
Franchise Advisory Council (various locations)
Foundation Advisory Council (various locations)
Fast Axis Collimation (optics)
Foreign Assets Control
Football Association (Challenge) Cup
Florida Airports Council
Foreign Affairs Canada
First Aid Case (one-time treatment and observation of minor injury)
Federal Airports Corporation
Firearms Acquisition Certificate (Canada)
Food Advisory Committee
First Amendment Center
FACFriday Afternoon Club
Free Active Chlorine (electrochemical water treatment)
Flight Augmentation Computer (autopilot)
Free Available Chlorine
Field-Aligned Currents
Facility Contract
Final Assembly Code
Fuel Adjustment Clause
Final Acceptance Criteria
Face-Amount Certificate (finance)
Fellowship Advisory Committee (various organizations)
Family Assistance Centre (UK)
Food Assistance Center
Fully Allocated Costs
Fitness Assessment Cell (US DoD)
Fractal Aspect Component (Aspect-Oriented Programming project)
Family Action Council (public policy group on eating disorders)
Forecast at Completion (project management)
Forced Authorization Code
Fanart Central (forum)
Food and Agriculture Council (USDA)
Foreign Air Carrier
Featured Article Candidate (Wikimedia Foundation)
Freethought Association of Canada (Toronto, ON, Canada)
Fellowship Admissions Course
Financial Attack Center (US FEMA)
Fourth amended complaint (legal)
Facility Analysis Category
Future Agricultures Consortium (UK)
Functional Area Chief
Friendship Agape Church (San Jose, California)
Find Area Code (Mountain Data Systems)
Federación Argentina de Colectividades (Spanish: Argentine Federation of Communities)
Florida Aero Club
Flight Activity Category
Fenway Action Coalition
Florida Archaeological Council, Inc.
Fun Activities Committee (various organizations)
The word is often used by college students and their old-enough-to-drink friends.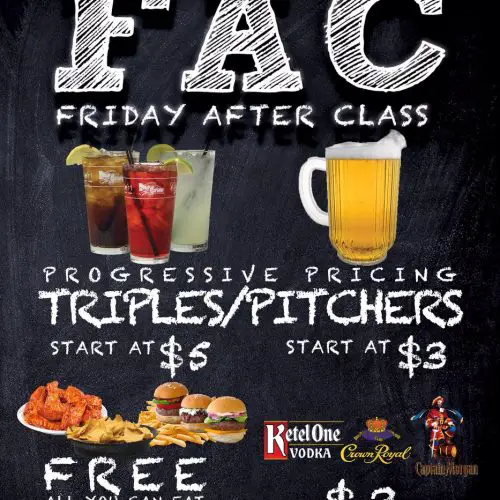 How to Use FAC in Conversations
Example 1
Student 1: Yo man, the semester is over! How is it going ?
Student 2: Not bad. I'll let you know when I have my points. Student 1: Great man. You are free? Student 2: Yes, I'm at FAC right now.
Student 1: Did you go to FAC and not tell me? Student 2: You can come, just a few more hours.
Student 1: Coming!
This example shows two students talking in a text conversation. Two students began to discuss the results of their midterm exams. Student 1 asks Student 2 if they are free. Student 2 is at "FAC". This means he's currently at the bar sipping specialty drinks and socializing with others. Student 1 was a little angry that he hadn't received an invitation to go out, but he would join his friend at the bar.
Example 2
Student 1: OMG, last night was legendary!
Student 2: Really? Oh man, did I screw up? Student 1: Haha, no. You didn't do anything. How you're feeling? Student 2: Just a bit slower than usual. The FAC gets over me everytime.
Student 1: I'm surprise you look totally fine!
The second example is a conversation between the same students on Saturday morning after a night of partying. Student 1 asks Student 2 to see how they're doing. Student 2 says he is a little slow (and maybe he has a hungover). He said "FAC" always gets over him. This means that he usually starts partying on Friday afternoon and drinks a little too much.
Alternatives to FAC
Here are some words and phrases you can use instead of FAC.