What Does OBO Mean and How Do We Use This Acronym?
There are many acronyms in our everyday life, but we aren't always sure what they refer to. Acronyms are created terms that arise by the first letter of every consecutive component of a set of words. To determine what it is, we employ context clues or previous information. The acronym being used in this instance is OBO.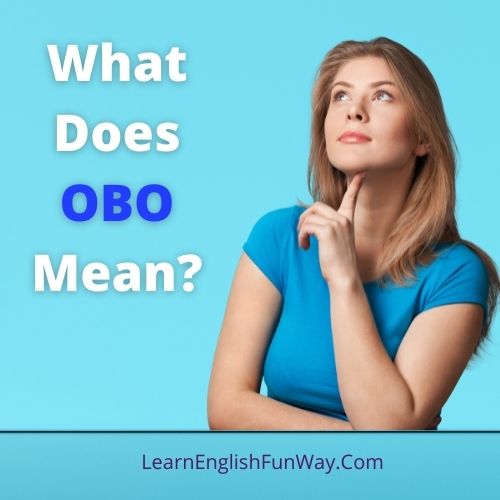 Pin
What Does OBO Mean?
OBO stands for "Or Best Offer".
OBO is an acronym that means "or best offer." It is used in both electronic and paper advertisements that include the price of the product being offered which indicates that the seller is willing to accept less money than what they're offering. Also, sellers can negotiate a reduction in price, when it's necessary to market the product. For example, if you're trying to sell furniture through Craig's List and you want to dispose of the furniture, but you believe it's worth something, it could be worth your while to include not just the listed price, but also the word OBO that stands for "or best offer."
One example could be when you're pricing an item courses to sell. you put "$100 OBO." This implies that you're willing to pay to pay $100 in exchange for this item but you're willing to consider lower offers if nobody will buy the item at $100 very soon.
It is clear how the vendor is a driven seller who would prefer to pay less money right now to purchase the item, instead of waiting for a long period of period of time to receive the exact price that he/she would like for the product.
Example:
Computer for sale, $250 OBO.
The brand new iPhone 8, received as gift after I purchased one iPhone X. It's still in the box and can be used on any carrier. Asking for $700 OBO
What Is the Most Common Application of OBO?
OBO is used most often in advertisements or listings on courses forums like Facebook Marketplace, Craigslist, eBay. The word OBO is added after the listing price on the listing to indicate that the seller is willing to accept any offers to purchase the item, and also that the listed price is not ideal but rather, the seller is willing to accept lower or offers that are higher over the price stated.
A majority of the time the abbreviation obo is usually used after the phone number you've listed. It could be that you have a secondhand phone that you're selling with a price of $350. If you're not certain you're able to sell the phone at this price, or if you believe there could be bids on the phone due to it being worth more it is possible to state you are selling it for $350 OBO.
Where OBO is Used
If two people barter about an item it is the most common exchange. A few people will pay for the purchase while others attempt to lower the cost. Because this tactic is popular, many sellers are pricing their products higher than what they expected. You might think you're getting a bargain but in reality you're paying more than what they had hoped to get in the event of a sale.
Other Meaning of the OBO
On Behalf Of
Overseas Business Office
Official Blow-Off
Observation (UK)
One by One
Off By One
One Ball Only
Oil Bulk Ore
Order Book Official
Official Business Only
Our Best Offer
Owner Buy Out
Oxford Bibliographies Online
Overseas Buildings Operations