Motivational Quotes for Success
Motivational quotes are a great way to develop an optimistic outlook on our work and life when we require it the most. They accomplish this by using positive thinking. The ability to reframe our brains to think positively is the first element in living a happy and prosperous life.
If we're looking for success, we should think of inspiring, successful and inspiring thoughts by motivational and inspirational quotes.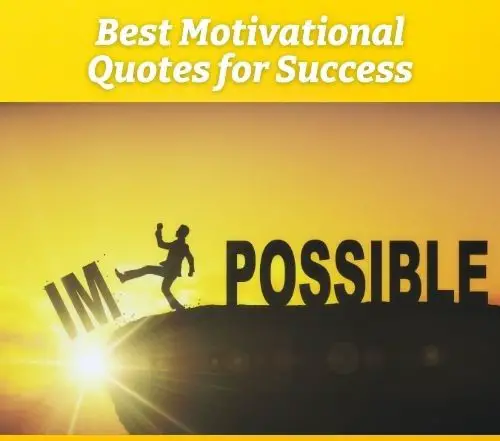 Pin
Explore the wisdom words that will inspire you to continue developing your business, leading your life with the success you want, reaching your goals, and conquering your anxieties.
Below are 15 motivational quotes for success that can encourage you to achieve success even in the face of failures as well as setbacks and obstacles.
"Success is a journey, not a destination." – Arthur Ashe
"Learn as if you will live forever, live like you will die tomorrow." — Mahatma Gandhi
"If you are not willing to risk the usual you will have to settle for the ordinary." —Jim Rohn
"All our dreams can come true if we have the courage to pursue them." —Walt Disney
"Believe you can and you're halfway there." Theodore Roosevelt
"Success is where preparation and opportunity meet." – Bobby Unser
"Good things come to people who wait, but better things come to those who go out and get them." —Anonymous
"If you do what you always did, you will get what you always got." —Anonymous
"Success is getting what you want, happiness is wanting what you get." ―W. P. Kinsella
"The best time to plant a tree was 20 years ago. The second best time is now." – Chinese Proverb
"Happiness is not something readymade. It comes from your own actions."-Dalai Lama
"There are three ways to ultimate success: The first way is to be kind. The second way is to be kind. The third way is to be kind." —Mister Rogers
"Success is walking from failure to failure with no loss of enthusiasm." —Winston Churchill
"I can't change the direction of the wind, but I can adjust my sails to always reach my destination." – Jimmy Dean
"We cannot solve problems with the kind of thinking we employed when we came up with them." — Albert Einstein
Motivational Quotes for Work
Are you searching for the perfect quote to inspire you to be more productive at your job? Maybe you just need some motivation to get going?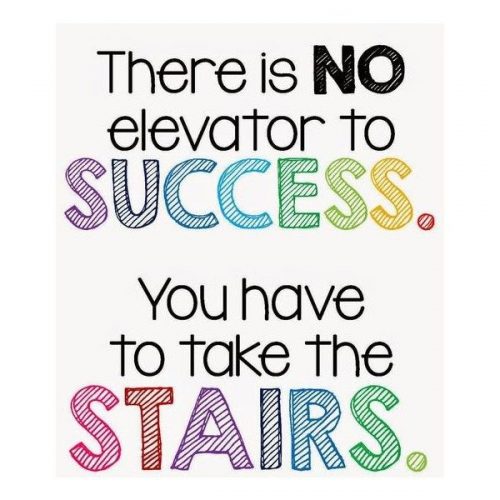 Pin
Here's a list of 15 motivational quotes for work that will increase your energy instantly and motivate you and your team to the best!
"The future depends on what you do today." – Mahatma Gandhi
"Don't wait. The time will never be just right." – Napoleon Hill
"The most effective way to do it, is to do it." – Amelia Earhart
"Start where you are. Use what you have. Do what you can." – Arthur Ashe
"I'm a greater believer in luck, and I find the harder I work the more I have of it." – Thomas Jefferson
"When we strive to become better than we are, everything around us becomes better too." – Paulo Coelho
"The man who moves a mountain begins by carrying away small stones." – Confucius
"Don't judge each day by the harvest you reap but by the seeds that you plant." – Robert Louis Stevenson
"We are what we repeatedly do. Excellence, therefore, is not an act. But a habit." – Aristotle
"Just one small positive thought in the morning can change your whole day." – Dalai Lama
"Whether you think you can, or you think you can't – you're right." – Henry Ford
"Don't wish it were easier. Wish you were better." – Jim Rohn
"Do the hard jobs first. The easy jobs will take care of themselves." – Dale Carnegie
"Try not to become a person of success, but rather try to become a person of value." – Albert Einstein
"If your actions inspire others to dream more, learn more, do more and become more, you are a leader." – John Quincy Adams
Funny Motivational Quotes
Laughter is the most effective medicine for life And these funny motivational quotes are sure to brighten up your day and bring the most beautiful smiling face on you.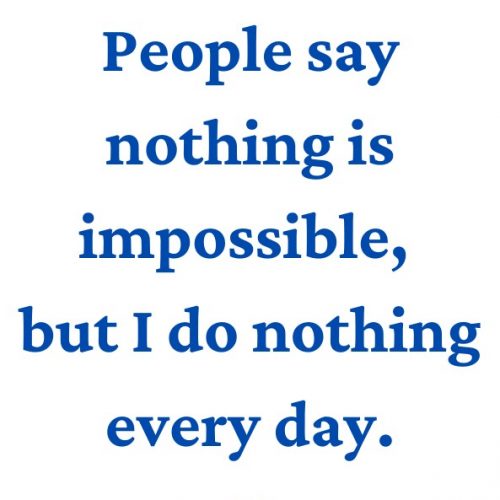 Pin
These 15 funny inspirational quotes about life could inspire you to reach your goals.
"The difference between stupidity and genius is that genius has its limits." – Albert Einstein
"Marriage is the only war in which you sleep with the enemy." – Francois de La Rochefoucauld
"If you want your children to listen, try talking softly to someone else." – Ann Landers
"You can't have everything. Where would you put it?" – Steven Wright
"A bank is a place that will lend you money if you can prove that you don't need it." – Bob Hope
"My favorite machine at the gym is the vending machine." – Caroline Rhea
"Happiness is just sadness that hasn't happened yet." – Unknown
"If you think you are too small to make a difference, try sleeping with a mosquito." – Dalai Lama
"When I hear somebody sigh, 'Life is hard', I am always tempted to ask, 'Compared to what?'" – Sydney Harris
"Education is learning what you didn't even know you didn't know." – Daniel J. Boorstin
"Whoever said money can't buy happiness didn't know where to shop." – Gertrude Stein
"People often say that motivation doesn't last. Well, neither does bathing — that's why we recommend it daily." — Zig Ziglar
"When a man opens a car door for his wife, it's either a new car or a new wife." – Prince Philip, Duke of Edinburgh
"Everything is funny, as long as it's happening to somebody else." – Will Rogers
"The elevator to success is out of order. You'll have to use the stairs… one step at a time." – Joe Girard
Motivational Quotes about Life
Life is full of happiness and sadness, as well as battles that will test your strength and endurance as well as push you to conquer difficulties and provide you with valuable lessons that make you more resilient on the way to success.
It all begins with your thoughts. When you alter your thinking and beliefs, you improve what you experience in your daily life.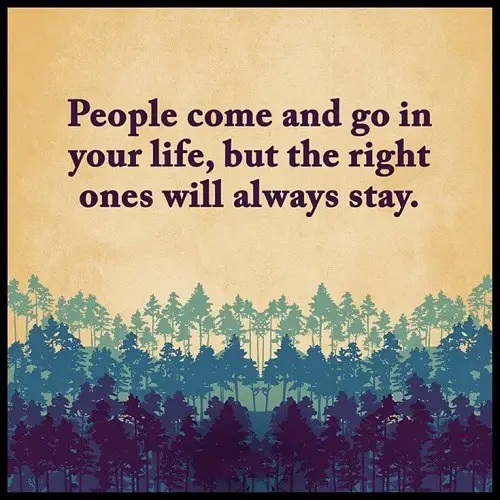 Pin
These motivational quotes about life will inspire you, motivate you, and even cause you to tear up in a few places, too.
"The purpose of our lives is to be happy." — Dalai Lama
"If you want to live a happy life, tie it to a goal, not to people or things."– Albert Einstein
"Don't Let Yesterday Take Up Too Much Of Today." – Will Rogers
"Everything negative – pressure, challenges – is all an opportunity for me to rise." — Kobe Bryant
"Life is what happens when you're busy making other plans." — John Lennon
"You only live once, but if you do it right, once is enough." — Mae West
"We may encounter many defeats but we must not be defeated." – Maya Angelou
"Life is what happens to us while we are making other plans."― Allen Saunders
"Good things come to people who wait, but better things come to those who go out and get them." –Anonymous
"You learn more from failure than from success. Don't let it stop you. Failure builds character." — Unknown
"Experience is a hard teacher because she gives the test first, the lesson afterwards." ―Vernon Sanders Law
"Life is like riding a bicycle. To keep your balance, you must keep moving."― Albert Einstein
"Nothing in life is to be feared, it is only to be understood. Now is the time to understand more, so that we may fear less." ― Marie Curie
"If you live long enough, you'll make mistakes. But if you learn from them, you'll be a better person." —Bill Clinton
"We become what we think about most of the time, and that's the strangest secret." –Earl Nightingale
Motivational Quotes for Women
The women of the world are known to have greater mental acuity, patience, concentration, compassion, and networking abilities. The list of feminine strengths is infinite.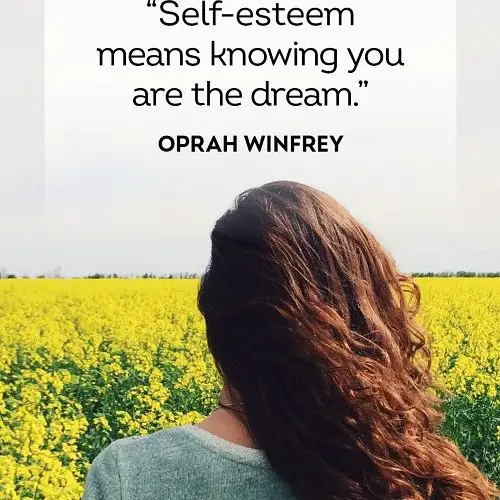 Pin
The inspiring quotes below for women contain wisdom that can inspire confidence, optimism, and the inner strength. We hope you find pleasure in reading them just as we enjoyed creating them.
"Think like a queen. A queen is not afraid to fail. Failure is another stepping stone to greatness." — Oprah Winfrey
"Women challenge the status quo because we are never it." — Cindy Gallop
"Whenever you see a successful woman, look out for three men who are going out of their way to try to block her." – Yulia Tymoshenko
"A witty woman is a treasure; a witty beauty is a power." ― George Meredith
"The best protection any woman can have … is courage."– Elizabeth Cady Stanton
"A woman is the full circle. Within her is the power to create, nurture and transform." ~ Diane Mariechild
"A woman is like a tea bag – you never know how strong she is until she gets in hot water." – Eleanor Roosevelt
"If you want something said, ask a man; if you want something done, ask a woman." – Margaret Thatcher
"It takes a great deal of courage to stand up to your enemies, but even more to stand up to your friends." ~ J. K. Rowling
"You are more powerful than you know; you are beautiful just as you are." ~ Melissa Etheridge
"The power you have is to be the best version of yourself you can be, so you can create a better world." ~ Ashley Rickards
"Life is not measured by the number of breaths we take, but by the moments that take our breath away." ~ Maya Angelou
"We realize the importance of our voices only when we are silenced." — Malala Yousafzai
"The most common way people give up their power is by thinking they don't have any."– Alice Walker
"If you look at what you have in life, you'll always have more. If you look at what you don't have in life, you'll never have enough."– Oprah Winfrey
Motivational Quotes for Men
Men aren't the type to carry their emotions on their sleeves, but they're still human beings with feelings. Like all of us men require a regular dose of motivation to keep them going.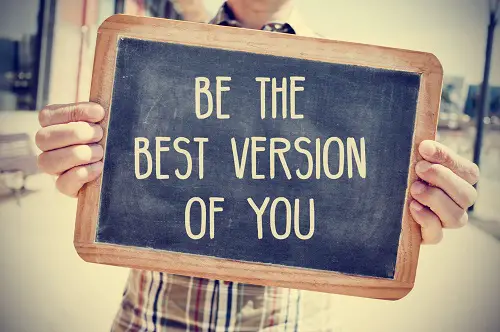 Pin
Below are 15 of the best motivational quotes for men. The aim? to assist you in improving your life, and get the success you've always wanted. We hope you will love these inspirational quotes.
"A great man is hard on himself; a small man is hard on others." – Confucius.
"Nearly all men can stand adversity, but if you want to test a man's character, give him power." – Abraham Lincoln
"Man is not made for defeat. A man can be destroyed, but not defeated." – Ernest Hemingway.
"Courage is not having the strength to go on; it is going on when you don't have the strength." – Theodore Roosevelt
"A person can achieve everything by being simple and humble." – The Vedas
"Success is going from failure to failure without losing your enthusiasm." – Winston Churchill.
"The real man smiles in trouble, gathers strength from distress, and grows brave by reflection." – Thomas Paine
"Do not pray for an easy life. Pray for the strength to endure a difficult one." – Bruce Lee
"A successful man is one who can lay a firm foundation with the bricks others have thrown at him." – David Brinkley
"To be disciplined or non-disciplined is a choice you make every minute in every hour of your life." – Russell Gerald Johnston
"The difference between the impossible and the possible lies in a man's determination." – Tommy Lasorda
"The successful man will profit from his mistakes and try again in a different way." – Dale Carnegie.
"Strength doesn't come from what you can do. It comes from overcoming the things you once thought you couldn't." – Rikki Rogers.
"The mark of a great man is one who knows when to set aside the important things in order to accomplish the vital ones." – Brandon Sanderson.
"The secret of success is learning how to use pain and pleasure instead of having pain and pleasure use you. If you do that, you're in control of your life. If you don't, life controls you." – Tony Robbins
Motivational Quotes for Students
Do you need help in your studies? Perhaps you've tried to use the Law of Attraction to help you imagine what you would like to accomplish but you need some assistance to get motivated?
The reading of motivational quotes for students can provide you with an instant boost of energy to learn.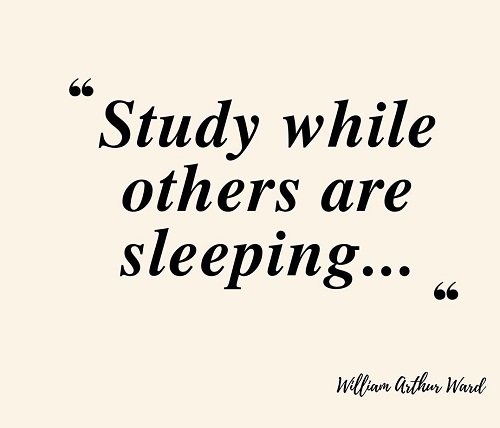 Pin
We've put together an entire list with 15 inspiring quotes for students that will assist you in studying.
"Whatever you are, be a good one."– Abraham Lincoln
"The beautiful thing about learning is that no one can take it away from you." — B.B. King
"You don't have to be great to start, but you have to start to be great." – Zig Ziglar
"Teachers can open the door, but you must enter it yourself." — Chinese Proverb
"The successful warrior is the average man, with laser-like focus." – Bruce Lee
"Don't let what you cannot do interfere with what you can do." — John Wooden
"Focus on doing the right things instead of a bunch of things." – Mike Krieger
"A person who never made a mistake never tried anything new." — Albert Einstein
"Learning is never done without errors and defeat." – Vladimir Lenin
"Wake up with determination. Go to bed with satisfaction." – unknown
Procrastination makes easy things hard and hard things harder." — Mason Cooley
"The pain you feel today will be the strength you feel tomorrow." – Nicole
"If you are not willing to risk the usual, you will have to settle for the ordinary." – Jim Rohn
"The best way to predict your future is to create it." – Abraham Lincoln
"Every person you meet knows something you don't; learn from them." —H Jackson Brown Jr.
Motivational Quotes for Kids
Growing up isn't easy. This thoughtful collection of motivational quotes for kids from the age of a child will make you think memories of your childhood.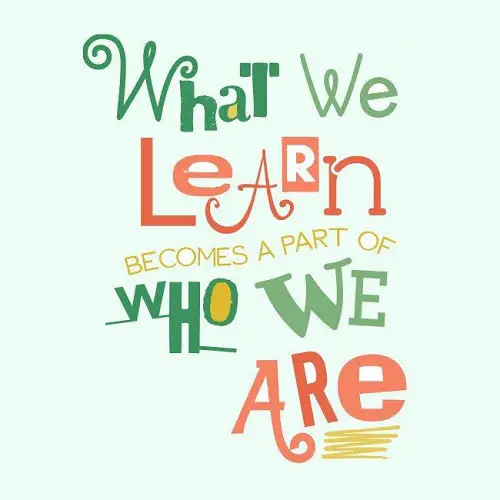 Pin
To help parents, we've put together an inspirational list of quotes for kids. They cover the majority of typical life events and situations that they'll need to deal with.
"When one door of happiness closes, another opens." – Helen Keller
"Do what you can, with what you have, where you are." – Theodore Roosevelt
"You miss 100% of the shots you don't take."– Wayne Gretzky
"Give the world the best you have, and the best will come to you." – Madeline Bridge
"No one is perfect – that's why pencils have erasers." – Wolfgang Riebe
"Only surround yourself with people who will lift you higher." – Oprah Winfrey
"It takes courage to grow up and become who you really are." – EE Cummings
"Nothing is impossible, the word itself says "I'm possible"!"― Audrey Hepburn
"Sometimes the right path is not the easiest one." – Grandmother Willow, Pocahontas
"To the world, you may be one person, but to one person you may be the world." – Dr Seuss
"Always keep a positive mindset. It will improve your outlook on the world." – Roald Dahl
"There is nothing in a caterpillar that tells you it's going to be a butterfly." – Buckminster Fuller
"Winning doesn"t always mean being first. Winning means you're doing better than you've done before." – Bonnie Blair
"Success is not final, failure is not fatal: it is the courage to continue that counts." ― Winston S. Churchill
"You cannot change the circumstances, the seasons, or the wind, but you can change yourself. That is something you have." – Jim Rohn
Morning Motivational Quotes
Good Morning Quotes are a powerful tool with the capability to transform your thinking process. A inspiring phrase at the beginning of your day can fill you with positive energy, enthusiasm and inspiration for the remainder of the day.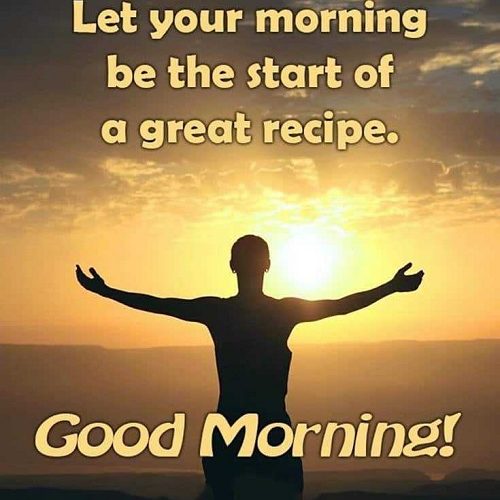 Pin
Here are the best 15 Morning Motivational Quotes that'll put your mind at ease, give motivational words, and get you going on the right track to a productive and successful day.
"A year from now you may wish you had started today." – Karen Lamb
"Either you run the day, or the day runs you." – Jim Rohn
"Write it on your heart that every day is the best day in the year." – Ralph Waldo Emerson
"An early-morning walk is a blessing for the whole day." – Henry David Thoreau
"The difference between ordinary and extraordinary is that little extra." – Jimmy Johnson
"Every morning, I wake up saying, 'I'm still alive, a miracle.' And so I keep on pushing." — Jim Carrey
"Some people dream of success, while other people get up every morning and make it happen." – Wayne Huizenga
"Morning is an important time of day, because how you spend your morning can often tell you what kind of day you are going to have." – Lemony Snicket
"Lose an hour in the morning, and you will spend all day looking for it." – Richard Whately
"To experience true happiness, two things are quintessential: zero expectations and let go attitude." – Invajy
"Good morning! Remember: A person can succeed at almost anything for which they have unlimited enthusiasm" – Charles M. Schwab
"Today, give a stranger one of your smiles. It might be the only sunshine he sees all day" – H. Jackson Brown, Jr.
"There was never a night or a problem that could defeat sunrise or hope" – Bernard Williams
"When you arise in the morning, think of what a precious privilege it is to be alive – to breathe, to think, to enjoy, to love." – Marcus Aurelius
"Your time is limited, so don't waste it living someone else's life." – Steve Jobs
Motivational Tough Times Quotes
If you're experiencing difficult times seeking out something that can give you a boost may make you realize that things don't have to be so bad. The seemingly endless periods of worry, disappointment, hurt, and heartache only brief moments which will soon be gone.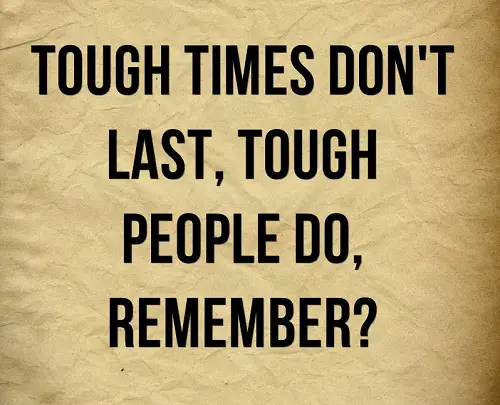 Pin
We've come up with our top 15 best motivational tough times quotes to help you through hard times. No matter what you're going through it's our goal to motivate you.
"A problem is a chance for you to do your best." – Duke Ellington
"Problems are not stop signs, they are guidelines." – Robert Schuller
"Learn how to be happy with what you have while you pursue all that you want." – Jim Rohn
"For every minute you are angry you lose sixty seconds of happiness."- Ralph Waldo Emerson
"Although the world is full of suffering, it is also full of the overcoming of it." — Helen Keller
"Every adversity, every failure and every heartache carries with it the seed of an equivalent or a greater benefit." – Napoleon Hill
"Show me someone who has done something worthwhile, and I'll show you someone who has overcome adversity." — Lou Holtz
"Hard times don't create heroes. It is during the hard times when the 'hero' within us is revealed." — Bob Riley
"The trick is to enjoy life. Don't wish away your days, waiting for better ones ahead." – Marjorie Pay Hinckley
"Obstacles don't have to stop you. If you run into a wall, don't turn around and give up. Figure out how to climb it, go through it, or work around it." — Michael Jordan
"We are all faced with a series of great opportunities brilliantly disguised as impossible situations." — Chuck Swindoll
"We either make ourselves miserable or we make ourselves strong. The amount of work is the same." — Carlos Costaneda
"Life isn't about waiting for the storm to pass, it's about learning how to dance in the rain." – Vivian Greene
"Challenges are what make life interesting and overcoming them is what makes life meaningful." – Joshua J. Marine
"There are two ways to live your life. One is as though nothing is a miracle. The other is as though everything is a miracle." – Albert Einstein
Motivational Monday Quotes
The Monday mornings you wake up to don't have to be miserable. The key is to find something you can look forward to and inspire you to keep going all week.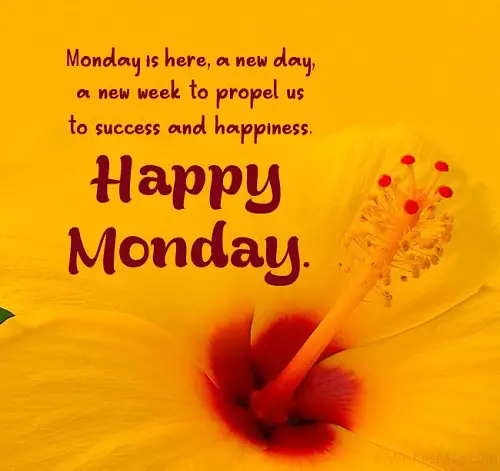 Pin
We've collected 15 of the best motivational Monday quotes to give you a shot of motivation as you begin your work week or Monday. might help you make some perspective shift.
"Monday is for people with a mission. Those who favor vacations, not weekends." – Cristina Imre
"This is your Monday morning reminder that you can handle whatever this week throws at you." — Unknown
"I really think a champion is defined not by their wins but by how they can recover when they fall." — Serena Williams
"Monday Morning Blues? Why not change the color of your Monday to yellow and brighten up the coming week?" – Kanika Saxena
"You can't use up creativity. The more you use, the more you have."— Maya Angelou
"Always believe that something wonderful is about to happen." – Sukhraj S. Dhillon
"Eighty percent of success is showing up." – Woody Allen
"You are in control. Never allow your Monday to be manic." —Andrea L'Artiste
"Mondays are the start of the work week which offer new beginnings 52 times a year!" – David Dweck
"Be miserable. Or motivate yourself. Whatever has to be done, it's always your choice." – Wayne Dyer
"Every morning you have two choices: continue to sleep with your dreams or wake up & chase them." —Kristin, Sophisticated Gal
"I didn't get there by wishing for it or hoping for it, but by working for it." —Estée Lauder
"Today is your opportunity to build the tomorrow you want." —Ken Poirot
"If you get up in the morning and think the future is going to be better, it is a bright day. Otherwise, it's not." — Elon Musk
"Whatever the mind of man can conceive and believe, it can achieve." – Napoleon Hill
Wednesday Motivational Quotes
Wednesday is a fascinating day. Some consider it to be the day of hump, which marks the halfway point of the week. After you have finished the day, you're getting ready for the weekend. Some consider Wednesday to be one of the most long days in the week. they believe that Friday will never arrive.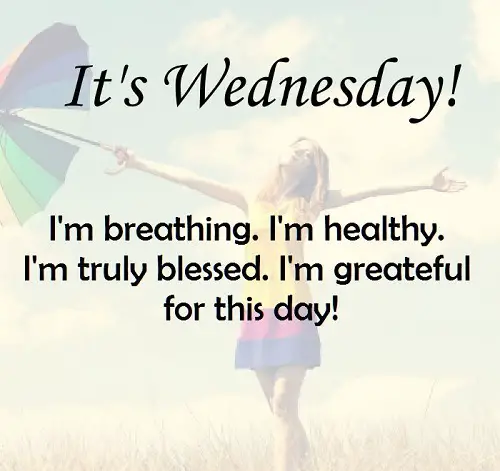 Pin
Get inspired by these Wednesday motivational quotes and strive to achieve your best.
"Wednesday will be amazing so wake up and smile." – Unknown
"To some, it's Hump Day. To us, it's Wednesday's getting its ass kicked and Thursday just asking Friday to switch places." – Dwayne Johnson
"A Wednesday with no rain is a dry hump day." – Demetri Martin
"If all our national holidays were observed on Wednesdays, we could wind up with nine-day weekends." – George Carlin
"They didn't want it good, they wanted it Wednesday." – Robert A. Heinlein
"Elephants love Wednesday, and so will you." – Anthony T. Hincks
"My job is to give people who work hard all week something to enjoy on Saturdays and Wednesdays." – Arsene Wenger
"I've heard on Monday, Tuesday, Wednesday, Thursday, and Friday, but I've never heard of Someday." – Reverend Ike
"Wednesdays are like Mondays in the middle of the week!" – Lee Fox Williams
"If all our national holidays were observed on Wednesdays, we could wind up with nine-day weekends." – George Carlin
"It will not be lonely on Wednesday when it has all around it." – Anthony T. Hincks
"Wednesday: Halfway to the weekend! Enjoy your day!" – Unknown
"Wednesdays will always bring smiles for the second half of the week." –Anthony T. Hincks
"On Wednesday afternoons I could be practically anything." – Kit Williams
"There are more myths about Black Wednesday than the Greeks ever created." – John Major
Thursday Motivational Quotes
Thursday motivational quotes are an excellent opportunity to inspire yourself with this thrilling Thursday day, on the edge of the long weekend.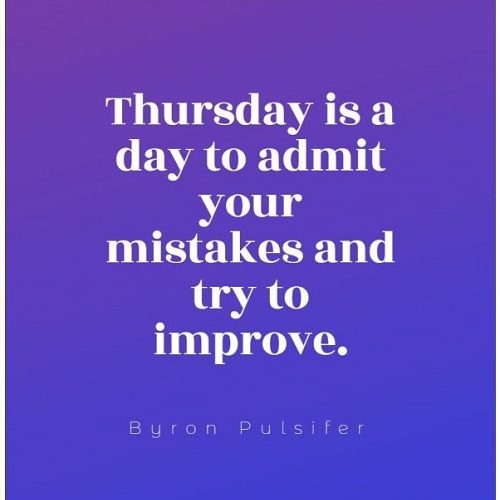 Pin
Be inspired, inspired and be encouraged by these motivational quotes for Thursday.
"Thursday, I forecast as mostly sunny. It's a much-needed break." – John Farley
"Start your Thursday with an attitude of optimism. It's going to be a good day!" – Kate Summers
"Thursday comes and the week's gone." – George Herbert
"Some people call it Thursday, I like to call it Friday Eve." – Unknown
"Life is what we make it, always has been, always will be." – Grandma Moses
"Don't count the days. Make the days count." – Muhammad Ali
"Quit overthinking and just do more of what makes you happy and alive. Hoping that you have a fantastic Thursday!" – Unknown
"I wish you a tolerable Thursday. That's all any of us can hope for." – April Winchell
"Happy Thursday. A brand new day. A clean slate. The possibilities are endless." – Unknown
"It's Thursday and it really feels like a Thursday. Sometimes things just work out." – Demetri Martin
"Dear Thursday are you sure you're not Friday? Because I could really go for it being Friday today!" – Unknown
"I wonder how to turn water into wine. Happy thirsty Thursday." – Unknown
"It's Thursday. I'm breathing. I'm alive and I'm blessed. God is good." – Unknown
"Thursday is a day to admit your mistakes and try to improve." – Byron Pulsifer
"Hardships often prepare ordinary people for an extraordinary destiny." – C.S. Lewis
Saturday Motivational Quotes
Saturday is by far the most important weekend day since it's the day we can indulge in whatever we want to do the most. In between Sunday and Friday Saturday is the most enjoyable days of both.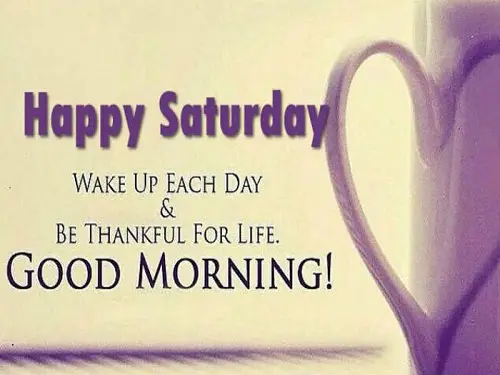 Pin
Below are 15 Saturday motivational quotes that will help you start your day off right.
My work is like my vacation, so in a way, every day is like Saturday. – Ludacris
Every man has a right to a Saturday night bath. – Lyndon B. Johnson
On Saturday morning, I like to get up early and go out – TV is banned! – Debra Stephenson
"Saturday is what gives us a weekend of enjoyment."– Anthony T. Hincks
Love me like Saturday night, like three glasses of champagne, like the room is spinning, like you're drunk on my love. – C.J. Carlyon
I told myself that I was going to live the rest of my life as if it were Saturday. – Chip Gaines
"Saturday night is perfect for writers because other people have plans."– Mike Birbiglia
"Today is Saturday. Yesterday you said, tomorrow. Do it today. Do not make any excuses for yourself."
"Happy Saturday! Make the most of this day! Laugh, love, read, live, learn, play, dream. Just be happy. Live every moment."
Sunday would be lost without Saturday, and I would be lost without you. – Anthony T. Hincks
Without Saturday, Sunday would just be another day of the week. – Anthony T. Hincks
"Saturday is a day for the spa. Relax, indulge, enjoy, and love yourself, too." – Ana Monnar
The most difficult thing is the decision to act, the rest is merely tenacity. ― Amelia Earhart
If everything seems to be under control, you're not going fast enough. ― Mario Andretti
Saturday mornings, I've learned, are a great opportunity for kids to sneak into your bed, fall back asleep, and kick you in the face. – Dan Pearce
Sunday Motivational Quotes
Sunday is regarded as to be a day of relaxation. A chance to think about the previous week and the week ahead. It's a time to be grateful for our blessings, and to appreciate the beauty of the world around us. Most Sundays are spent with friends and family. Whatever you are doing, be happy and grateful!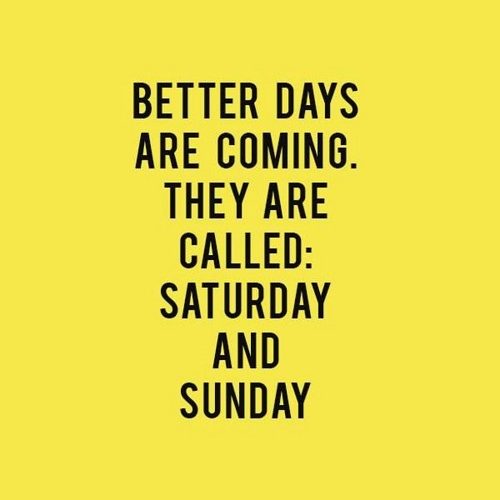 Pin
Use these Sunday motivational quotes to begin your week with encouraging and encouraging words.
"A Sunday well spent brings a week of content." – Unknown
"Sunday is your best day. You know you had an amazing week. Time to recover and think how you gonna kill the next one." – Unknown
"Sunday, the day for the language of leisure." – Elfriede Jelinek
"Sunday evenings often feel like the weekend is over before it's even begun." – Catherine McCormack
"Free yourself from all prejudices and let yourself go on Sunday." – Unknown
"Sunday is the core of our civilization, dedicated to thought and reverence." – Ralph Waldo Emerson
"Do not let Sunday be taken from you. If your soul has no Sunday, it becomes an orphan." – Albert Schweitzer
"Sunday clears away the rust of the whole week." – Joseph Addison
"Sunday is a time when you sit back and reflect on all the blessings that you have received. Smile at all the good things that you are enjoying." – Sera Train
"The goal of Sunday is to leave my home as little as possible." – Mark Mo
"Sunday is the perfect day to refuel your soul and to be grateful for each and every one of your blessings." – Unknown
"Do not waste a single Sunday. If you don't waste Sundays, you will be less likely to waste Mondays, Tuesdays, and Wednesdays." – Matthew Kelly
"Sunday is a wonderful day to spend in the circle of your family and friends, make impressions for the whole week today." – Unknown
"The feeling of Sunday is the same everywhere, heavy, melancholy, standing still." – Jean Rhys
"Sunday is the golden clasp that binds together the volume of the week." – Henry Wadsworth Longfellow
Workout Motivational Quotes
Finding motivation to workout isn't easy. There are a myriad of alternatives to distractions and more physically challenging alternatives to spend an hour in the gym or exercising at home.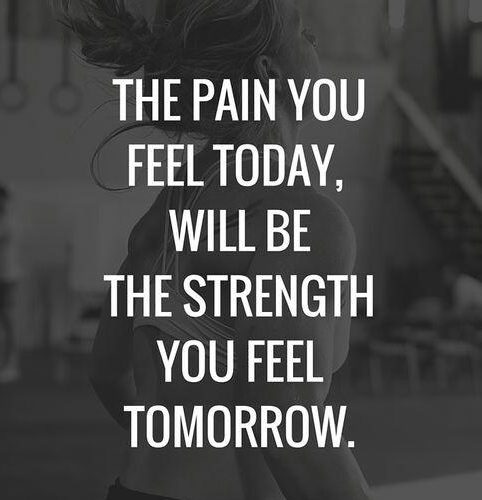 Pin
These 15 workout motivational quotes and humorous fitness quotes will keep you inspired.
"Success usually comes to those who are too busy to be looking for it.'— Henry David Thoreau
"The last three or four reps is what makes the muscle grow. This area of pain divides a champion from someone who is not a champion." — Arnold Schwarzenegger
"If you think lifting is dangerous, try being weak. Being weak is dangerous.' — Bret Contreras
"All progress takes place outside the comfort zone.' — Michael John Bobak
"Tough times don't last. Tough people do." – Robert H. Schuller
"Once you learn to quit, it becomes a habit." ― Vince Lombardi Jr
"Most people fail, not because of lack of desire, but, because of lack of commitment." – Vince Lombardi
"Some people want it to happen, some wish it would happen, others make it happen." – Michael Jordan
"Look in the mirror. That's your competition." – John Assaraf
"The groundwork for all happiness is good health." – Leigh Hunt
"The human body is the best picture of the human soul." – Ludwig Wittgenstein
"Exercise is king. Nutrition is queen. Put them together and you've got a kingdom." – Jack LaLanne
"Of course it's hard. It's supposed to be hard. If it were easy, everybody would do it. Hard is what makes it great." — Unknown
"Today I will do what others won't, so tomorrow I can accomplish what others can't." — Jerry Rice
"We are what we repeatedly do. Excellence then is not an act but a habit." —Aristotle
Motivational Quotes Aesthetic
A lot of people think that aesthetic quotes are synonymous with art, but this isn't the case. In reality aesthetic quotes are those designed to help you understand and appreciate your beauty, and the beauty of the world around you.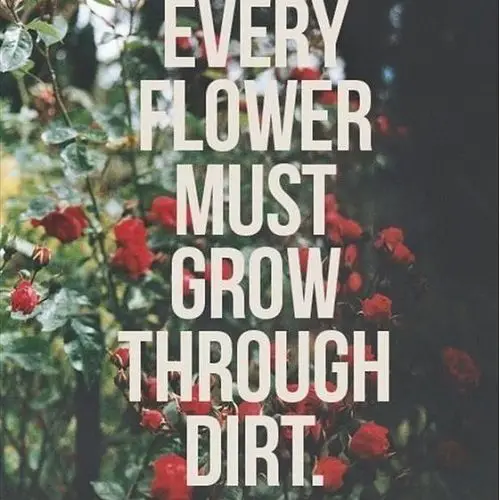 Pin
We're sharing some lovely beautiful motivational quotes aesthetic from our collection. It's only a tiny effort to put a smile on your face by sharing beautiful quotes. Let's be peaceful together:
"Beauty is how you feel inside, and it reflects in your eyes. It is not something physical." – Sophia Loren
"Aesthetics is for the artist like ornithology is for the birds." – Barnett Newman
"In the life of the individual, an aesthetic sensibility is both more authentic and more commendable than a political or religious one." – Tom Robbins
"For you to sleep well at night, the aesthetic, the quality, has to be carried all the way through." – Steve Jobs
"The aesthetics aren't merely a side note, they're as important as anything else."― Sylvain Neuvel
"Show me what a people admire, and I will tell you everything about them that matters." – Jack McDevitt
"Behind every exquisite thing that existed, there was something tragic."― Oscar Wilde
"Styles may change, details may come and go, but the broad demands of aesthetic judgment are permanent." – Roger Scruton
"The darkening of the world makes the irrationality of art rational: radically darkened art." ― Theodor W. Adorno
"Leonardo Da Vinci combined art and science and aesthetics and engineering, that kind of unity is needed once again." – Ben Shneiderman
"Aesthetics is both politics and philosophy, a series of agreements and disagreements between subjective minds." – Jimenez Lai
"I think the New Aesthetic is a series of observations. I think most of the trouble people have had with it comes from a misunderstanding of it as a movement." – Warren Ellis
"It's just my aesthetic: to want to feel a bit undone, effortless but not without style." – Yigal Azrouel
"Life is not always perfect. Like a road, it has many bends, ups, and down, but that's its beauty." – Amit Ray
"The more people explore the world, the more they realise in every country there's a different aesthetic. Beauty is in the eye of the beholder." – Helena Christensen
Motivational Soccer Quotes
In all over the world soccer is a hugely popular sport. In fact, it's the most played sport in the world.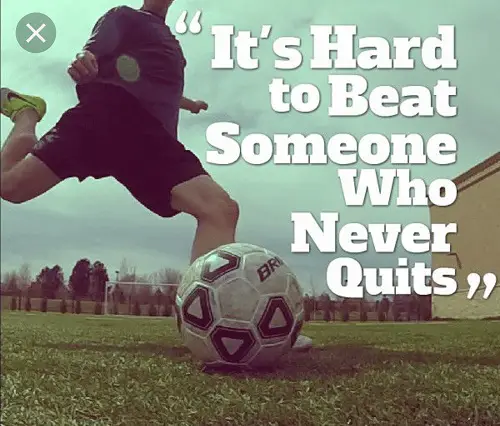 Pin
I would like to give you some inspiring and thought-provoking motivational soccer quotes by the players we think of as among the top soccer players all over the world.
"We must have had 99 percent of the game. it was the other three percent that cost us the match." – Ruud Gullit
"I learned all about life with a ball at my feet" – Ronaldinho
"The more difficult the victory, the greater the happiness in winning." – Pelé
"You have to fight to reach your dream. You have to sacrifice and work hard for it." – Lionel Messi
"The ball is round, the game lasts ninety minutes, and everything else is just theory." – Josef "Sepp" Herberger
. "I've never scored a goal in my life without getting a pass from someone else." – Abby Wambach
"When good soccer happens, I give thanks for the miracle and I don't give a damn which team or country performs it." – Eduardo Galeano
"God gives gifts to everyone, some can write, some can dance. He gave me the skill to play football and I am making the most of it." – Ronaldinho
"Everything I know about morality and the obligations of men, I owe it to football (soccer)." – Albert Camus
"When people succeed, it is because of hard work. Luck has nothing to do with success." – Diego Maradona
"I don't have time for hobbies. At the end of the day, I treat my job as a hobby. It's something I love doing." – David Beckham
"The secret is to believe in your dreams; in your potential that you can be like your star, keep searching, keep believing and don't lose faith in yourself." – Neymar
"Success is no accident. It is hard work, perseverance, learning, studying, sacrifice and most of all, love of what you are doing or learning to do." – Pele
"Your love makes me strong, your hate makes me unstoppable!" – Cristiano Ronaldo
"Take your victories, whatever they might be, cherish them, use them, but don't settle for them." – Mia Hamm
Motivational Basketball Quotes
Motivational Basketball quotes are an excellent way to increase your as well as your team's motivation. Whatever your situation, whether you're an athlete trying to improve your performance or a coach in search of motivation for your team basketball quotes will help you achieve your goals.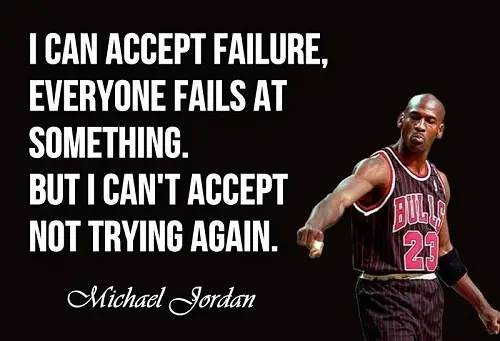 Pin
"I can accept failure, everyone fails at something. But I can't accept not trying." – Michael Jordan
"Hard work beats talent when talent fails to work hard." – Kevin Durant
"Excellence is not a singular act, but a habit. You are what you repeatedly do." – Shaquille O'Neal
"Discipline is doing what has to be done, when it has to be done, as well as it can be done, and doing it that way all the time" – Bob Knight
"I gave everything I had to basketball. The passion is still there, but the desire to play is not. It was a great ride." – Allen Iverson
"What do you do with a mistake: recognize it, admit it, learn from it, forget it." – Dean Smith
"Push yourself again and again. Don't give an inch until the final buzzer sounds." — Larry Bird
"There is no such thing as a perfect basketball player, and I don't believe there is only one greatest player either." — Michael Jordan
"Everything negative — pressure, challenges — are all an opportunity for me to rise." — Kobe Bryant
"Great players are willing to give up their own personal achievement for the achievement of the group. It enhances everybody." — Kareem Abdul-Jabbar
"Basketball is a lifelong game. You continue to learn from the game day in and day out, and all along the way, you get better." — Scottie Pippen
"Team work is the beauty of our sport, where you have five acting as one." — Mike Krzyzewski
"When you're not practicing, someone else is getting better." — Allen Iverson
"I gave everything I had to basketball. The passion is still there, but the desire to play is not. It was a great ride." – Allen Iverson
"Basketball is a beautiful game when the five players on the court play with one heartbeat." – Dean Smith
Motivational Running Quotes
No matter if you're a beginner or a seasoned runner, these motivational quotes for running are ideal for you.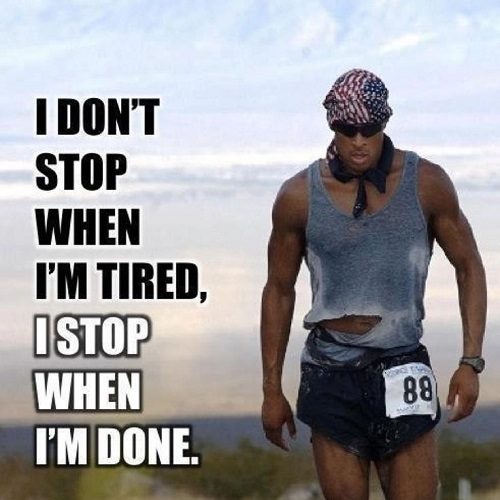 Pin
We've collected a fantastic collection of motivational running quotes that will keep you motivated every time you run regardless of how small or how far.
"Running is the greatest metaphor for life, because you get out of it what you put into it." — Oprah Winfrey
"One run can change your day, many runs can change your life." — Unknown
"I don't run to add days to my life, I run to add life to my days." — Ronald Rook
"Every marathon I ran, I knew I had a faster one in me." — Dick Beardsley
"The miracle isn't that I finished. The miracle is that I had the courage to start." – John Bingham
"I woke up on my birthday and said, 'I want to run 10 miles.' I just wanted to see if I could run double-digit mileage." — Sterling K. Brown
"You must do the thing you think you cannot do."— Eleanor Roosevelt
"Running has been my main form of exercise. I've been running five or six days a week. I love it." —Natalie Coughlin
"Running allows me to set my mind free. Nothing seems impossible. Nothing unattainable." — Kara Goucher
"Fast running isn't forced. You have to relax and let the run come out of you." — Desiree Linden
"If it doesn't challenge you, it won't change you." – Fred DeVito
"Someone who is busier than you is running right now." – Nike
"Life equals running and when we stop running maybe that's how we'll know life is finally finished." – Patrick Ness
"After all, if you run far enough, no one can catch you." ― V.E. Schwab
"Ask yourself: "Can I give more?" The answer is usually: "Yes." – Paul Tergat
Live By These Motivational Quotes
Thank you for taking the time to read these motivational quotes. We hope that you find these quotes to be motivating and inspiring, too. Take these words of inspiration whenever you are in need of an extra boost. These inspirational and motivational quotes will help you face every challenge and enable you to tackle any challenge with a straight face.
Positive motivational quotes will motivate you to improvement and assist you in achieving your goals that you set for yourself. Utilize them for daily motivation to train your brain to think positive thoughts and use them to affirm your thoughts and increase your endorphins.
Note them down or read them aloud and then bookmark them! We would also suggest that you give them to someone you know or a family member seeking ideas. Think about sharing your most loved quotes from the list to Facebook as well as Instagram!
Thank you so much!